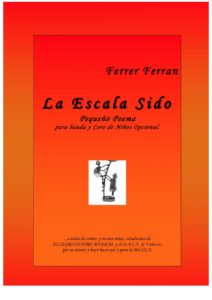 Tracklisting
Synopsis
La Escala Sido
Pequeño Poema
para banda y Coro de Niños Opcional.
"La Escala Sido" es una pieza dedicada a todos los niños que estudian este maravilloso arte que es, la Música…
Este pequeño poema es la culminación de una serie de pequeñas obras que Ferrer Ferran ha compuesto para los niños. Sirviendo estas para el "duro" aprendizaje del Solfeo o el Lenguaje Musical.
Entre estas cabe citar, "El Caracol Mifasol", donde el intervalo de tercera es el protagonista, y de este modo, en cada una de ellas, los niños aprenden un intervalo de diferente altura.
"La Escala Sido" es el resumen de este conjunto de piezas y desarrolla todos los sonidos de la escala. Do, re , mi , fa, sol, la, si y do, junto con los niños son los protagonistas de esta atractiva y juvenil pieza musical.
Encargo de la "Asociación Cultural ALLEGRO" de Valencia (España), para conmemorar el "X Aniversario" de su Fundación.
Esta composición está dedicada a: a todos los niños, y no tan niños, estudiantes de ALLEGRO CENTRO MUSICAL y de la A.C.A de Valencia, por su interés y buen hacer por y para la MÚSICA.
Esta obra fue estrenada el día 3 de Diciembre de 2006 por la Banda de la Asociación Cultural Allegro, dirigiendo Ferrer Ferran en el Palau de la Música de Valencia.
---
"La Escala Sido" is a piece dedicated to all the children that study this marvelous art that is, the Music…
This small poem is the culmination of a series of small works that Ferrer Ferran has composed for the children. Serving these for the "hard" learning of the Solfeo or the Musical Language.
Among these it fits to cite, "El Caracol Mifasol", where the interval of third is the protagonist, and in this way, in each one of them, the children learn an interval of different height.
 "La Escala Sido" is the summary of this assembly of pieces and develops all the sounds of the scale. "Do, re, mi, fa, sol, la, si and do", along with the children are the protagonists of this attraction and youthful musical piece.
Commisoned of the " Asociación Cultural ALLEGRO " of Valencia (Spain), to commemorate the "X Anniversary" of its Foundation.
This composition is dedicated to: To all the children, and not so children, students of ALLEGRO CENTRO MUSICAL and from the A.C.A. of Valencia, by its interest and good to do for and for the MUSIC.
This work was premiered December 3 by the Band of the Cultural Association Allegro, directing Ferrer Ferran in the Palau of the Music of Valencia.
Video
Grabaciones En Catálogo