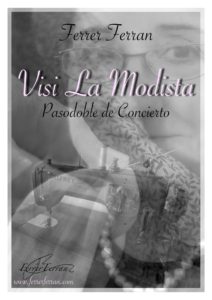 Tracklisting
Synopsis
Visi la Modista
Pasodoble de Concierto
Ferrer Ferran ha compuesto este pasodoble de concierto para Visitación Cerdá Juan, llamada habitualmente "Visi la Modista".
Para una madre más que ejemplar, sus tres hijas han querido "armonizar" en música, el amor que han recibido de ella.
Un pasodoble colorista y con fuerza obtiene unas dulces armonías donde resurgen algunas pequeñas pinceladas en la Flauta, en el Saxofón Alto y en el Clarinete, personalizando así, a las tres protagonistas y obteniendo unas agradables melodías conjugadas con el color del cariño.
"…Un millón de gracias por habernos dado la oportunidad de diseñar, cortar y confeccionar un traje único y a medida: nuestro futuro. De tus tres hijas".
Encargo de sus tres hijas para su madre Visitación Cerdá Juan.
Esta composición se estrenó el día 26 de Noviembre de 2016, en el Teatro Cervantes de Sax, Alicante (España) por la Banda Unión Musical y Artística de Sax, bajo la dirección de su titular, Pedro Lara Navarrete.
---
Ferrer Ferran has composed this concert pasodoble for Visitación Cerdá Juan who is usually called "Visi the Dressmaker".
For a mom who is more than an exemplary mother, her three daughters wanted to "harmonize" in music, the love that they have received from her.
A colourful pasodoble with intensity and power gets some sweet harmonies. Some small brushstrokes of these harmonies reappear in the Flute, in the Alto Saxophone and in the Clarinet. In this way it personalizes the three main caracters and obtains some pleasant melodies combined with the colour of love.
"… We thank you a million times for giving us the opportunity to design, cut and make a unique and custom-made suit: our future.  From your three daughters."
It was commissioned by the three daughters for their mother Visitación Cerdá Juan.
On November 26th, 2016, this composition was premiered by "la Banda Unión Musical y Artística" from Sax" in the "Teatro Cervantes" from Sax, Alicante (Spain) and was conducted by Pedro Lara Navarrete.
Video
Grabaciones En Catálogo