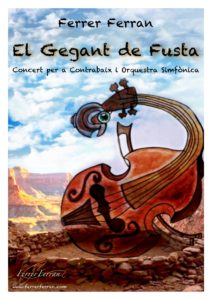 Tracklisting
Synopsis
El Gegant de Fusta (The Giant of Wood)
"…Aquel gigante de madera…, aquel pedazo de tronco humanizado que su única finalidad es hacer feliz a todos los seres vivos…"
Su felicidad, empeño y seguridad le procuraba a confiar en sí mismo, y así conseguir aquello que parecía imposible.
"El Gegant de Fusta" es ese trozo colosal de madera que nunca muere, y que siempre está aquí para sensibilizar a la naturaleza de la vida.
Tres movimientos lo definen como aquel personaje humanizado que contrastando entre sí, detallan presunción, ensueño, modernidad, delicadeza, majestuosidad, experiencia, dulzura, elegancia y simpatía.
"El Gegant de Fusta" es esa metáfora, el Contrabajo, necesario para ofrecer esa profundidad a la música, y es por esto, dar esa felicidad al resto de sus compañeros, la orquesta y al oyente.
"… a Javier Sapiña, Contrabajo solista de la Orquesta de Valencia, concertista y pedagogo, por toda su excelente labor en engrandecer el repertorio para dicho instrumento."
Esta composición se estrenó el día 7 de Abril de 2017, en el Palau de la Música de Valencia (España) por la Orquesta de Valencia, dirigiendo Rubén Gimeno y siendo solista, Javier Sapiña.
---
"… That giant of wood … , that piece of humanized trunk that its only purpose is to make happy all living beings …"
Its happiness, determination, and confidence sought to trust himself, and thus achieve what seemed impossible.
"The Giant of Wood" is that colossal piece of wood that never dies, and which is always here to sensitize the nature of life.
Three movements define it as that humanized character that contrasting with itself, detail presumption, daydream, modernity, delicacy, majesty, experience, sweetness, elegance and sympathy.
"The Giant of Wood" is that metaphor, the Double Bass, necessary to offer that depth to the music, and for this reason, to give that happiness to the rest of his comrades, the orchestra and the listener.
"… to Javier Sapiña, Double Bass soloist of Orchestra of Valencia, concert and pedagogue, for all its excellent work in magnifying the repertoire for the above mentioned instrument"
This composition was premiered on April 7th, 2017, in the Palau de la Música, Valencia (Spain) by the Orchestra of Valencia, conducting Rubén Gimeno, being soloist, Javier Sapiña.
Video
Grabaciones En Catálogo