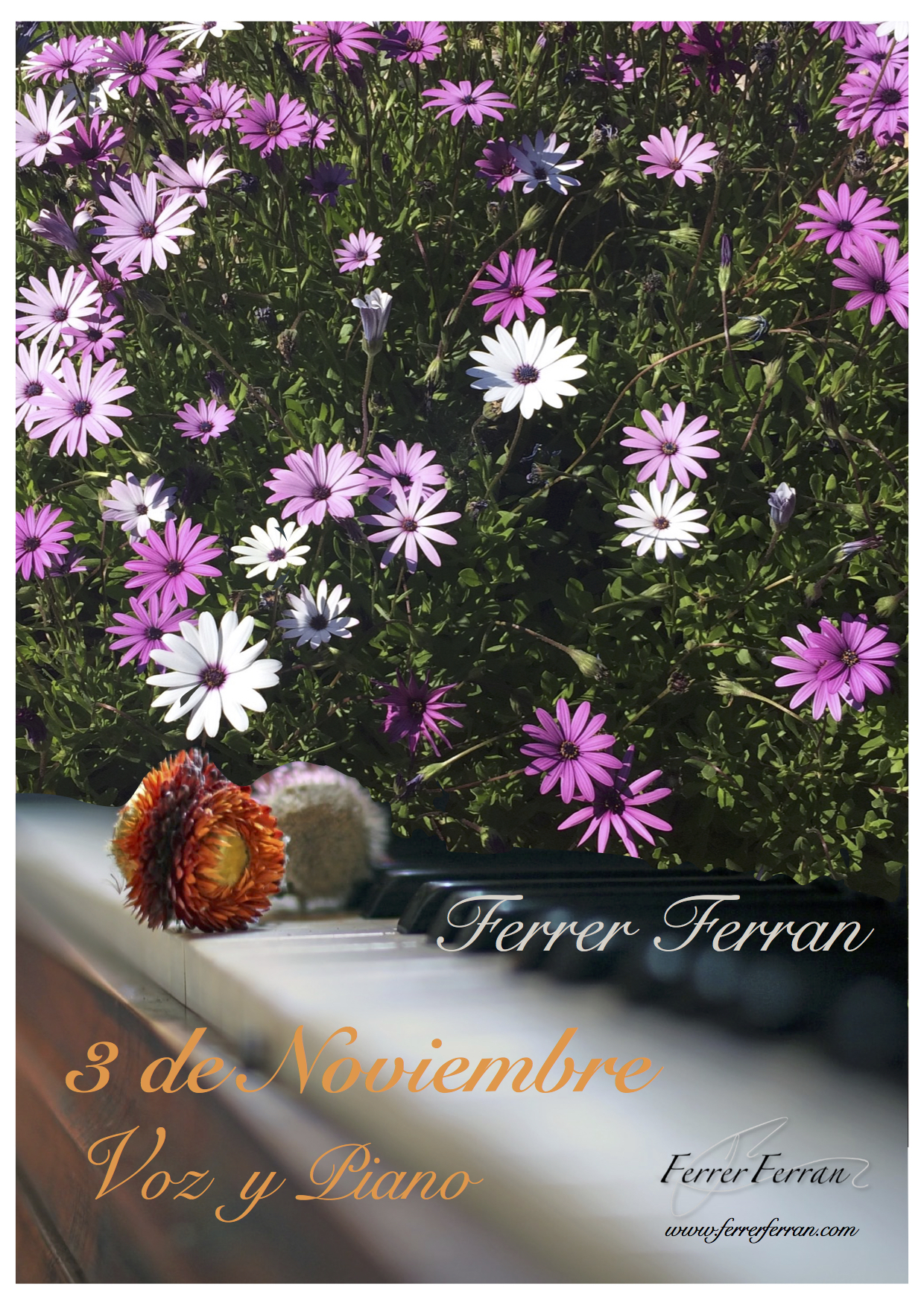 Tracklisting
Synopsis
3 de Noviembre
Tres episodios para voz y piano
Tres episodios de amor iluminados en el espíritu del corazón recuenta estas canciones para voz, y así armonizar con alegoría un sentimiento de tres momentos hermosos y únicos.
– Hace tan solo una semana de tantas que van a ser…,
– Hoy es el dos. Dos somos tú y yo…
– Estas tres luces iluminarán…
"3 de Noviembre" es ese día mágico que envuelve dos corazones puros que en el idioma universal, la música, describe la concordia, la armonía, esa paz que el interior debe alimentar para significar el alumbramiento de la felicidad.
Encargo de IVC a través de COSICOVA con motivo del "XXIX Encuentro de Compositores Sinfónicos Valencianos".
… a la más bonita y no sólo con esta flor.., por hacerme sentir todo aquello que hace, que nuestra maravillosa vida juntos, tenga el mayor de los sentidos…, a Silvia Catalá Guerra.
Esta composición se estrenó en Noviembre de 2017, en el Palau de la Música de Valencia, España
---
Three episodes of love illuminated in the spirit of the heart recount these songs for voice, and thus harmonize with allegory a feeling of three beautiful and unique moments.
– Only a week ago of so many that will be …,
– Today is two. There are two of you and me …
– These three lights will illuminate …
  "3 de Noviembre" is that magic day that involves two pure hearts that in the universal language, music, describes concord, harmony, that peace that the interior must nourish to signify the birth of happiness.
Commission by IVC through COSICOVA on the occasion of "XXIX Meeting of Valencian Symphonic Composers".
…to the most lovely and not only with this flower…, for making me feel everything that makes our wonderful life together, have the greatest sense…, To Silvia Catalá Guerra.
This composition was premiered on November 2017, in the Palau de la Música, Valencia (Spain)
Videos
Grabaciones En Catálogo