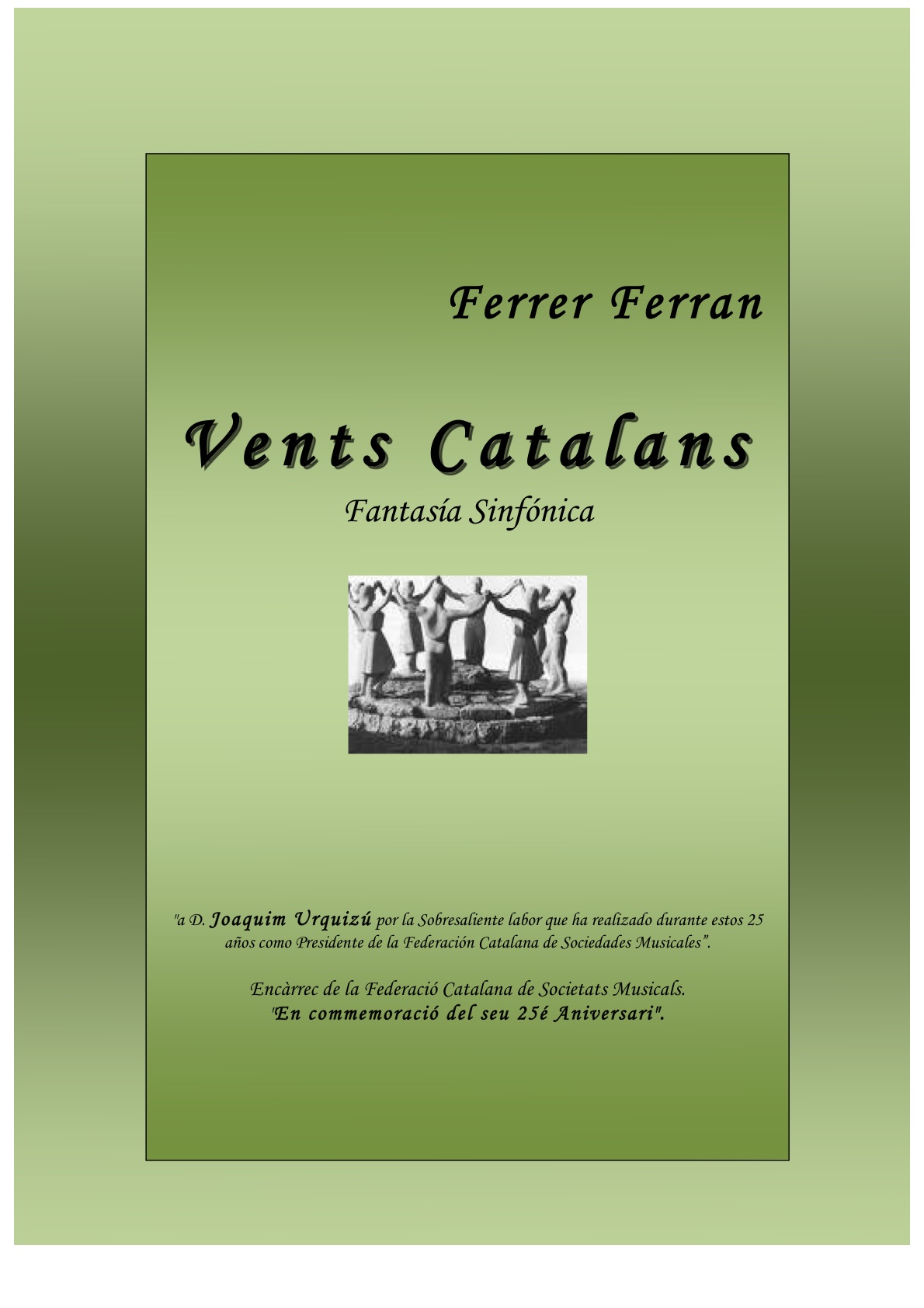 Tracklisting
Synopsis
Vents Catalans
Fantasía Sinfónica
Esta Fantasía Sinfónica está inspirada en temas que tienen mucha popularidad en la tierra de Cataluña.
Vents Catalans es una bella y linda pincelada musical, que aun no siendo temas escogidos del folclore Catalán, sí que nos traslada a este ambiente barcelonés, de bailes, danzas y exquisitas dulces melodías.
El comienzo triunfal y majestuoso nos recuerda "El cant de la Senyera"…, el alegre y danzón "Els Tres Tambors" viene reseñada con bastante similitud. La bonita y dulce melodía de "El Cant dels Ocells" también vendrá reflejada en esta composición.
Y no podría faltar la danza por excelencia, la danza tradicional, la Sardana, donde los bailarines, cogidos de las manos en alto, forman un círculo que se va haciendo más grande a medida que más personas se van integrando en él.
Encargo de la Federació Catalana de Sociedades Musicales "En commemoración de su XXV Aniversario".
Esta composición está dedicada a: … "a D. Joaquim Urquizú por la Sobresaliente labor que ha realizado durante estos 25 años como Presidente de la Federación Catalana de Sociedades Musicales.
"Vents Catalans" fue estrenada el día 19 de Noviembre en el "Palau de la Música" de Barcelona siendo interprete la Banda de la Federación Catalana de Sociedades Musicales, dirigiendo el autor.
---
This Symphonic Fantasy is inspired in themes that have a lot of popularity in the land of Cataluña.
Vents Catalans is a beautiful and pretty musical brushstroke, that even not being themes chosen of the Cataluña folk tradition, that us transfer to this environment of Barcelona, of dances, dances and exquisite sweet melodies. The majestic and triumphant beginning recalls us "The cant of the Senyera"…, the happy one and danzón "Els Three Tambors" comes reseñada with plenty of similarity. The pretty and sweet melody of "The Cant dels Ocells" will also come reflected in this composition.
And it would not be able to lack the dance by excellence, the traditional dance, the Sardana, where the dancers, caught of the hands in high, they form a circle that goes doing larger to the extent that more people go integrating in it.
Commisioned of the Federació Catalonian of Musical Companies "In commemoración of its XXV Anniversary".
This composition is dedicated to: … "To D. Joaquim Urquizú by the Outstanding work that has carried out during these 25 years as the President of the Catalonian Confederacy of Musical Companies.
"Vents Catalans" was premiered November 19 in the "Palau of the Music" of Barcelona being interpret the Band of the Catalonian Confederacy of Musical Companies, directing the author.
Video
Grabaciones En Catálogo