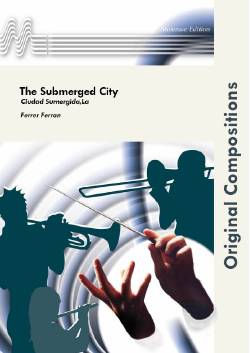 Tracklisting
Synopsis
The Submerged City
(La Ciudad Sumergida)
Poema Descriptivo
Port Royal, una próspera ciudad portuaria del siglo XVII, situada en la costa sur de Jamaica, era conocida como la ciudad más perversa del mundo por los vínculos que mantenía con bucaneros y piratas. El 7 de junio de 1692, fue casi completamente destruida por un terremoto que duró tres minutos y mató a 2000 personas. Todo lo que de ella quedó fue un pequeño núcleo de calles de la parte interior de la ciudad. El resto, una zona de unas ocho hectáreas, quedó sumergida en las aguas profundas.
Este poema relata el echo de una forma muy descriptiva tratando de trasladarnos con la imaginación a dicha ciudad y época. La obra está seccionada en partes conforme ocurrieron los hechos. De tal manera, el momento del terremoto la duración aproximada es de tres minutos al igual que en la sección dolorosa de la muerte de las 2000 personas es muy representativa.
las partes son:
-"Port Royal", the city (a ciudad)
-Omen of the earthquake (presagios del seismo)
-The destruction of the city. Earthquake of 1692, duration 3 min. (la destrucción de la ciudad. Terremoto en 1692, duración 3 min.)
-final submersion (sumersión final)
-prayer for the victims of the catastrophe (plegaria por las almas de la hecatombe)
-"Port Royal", the new city (la nueva ciudad)
---
Port Royal, a properous harbour town of the XVII century, situated in the south coast of Jamaica, and notorious for being the most perverse city in the world due to its close links with buccaneers and pirates, was almost completely destroyed by an earthquake, which lasted for three minutes and killed 2000 people on the 7th of June 1692. All that remaine of it was a small cluster of streets aroud the inner city. All the rest, an area of about seventeen acres, sank into deep waters.
This poem narrates the echo of that event in a descriptive form, trying to take us back in time to that city in that age. The composition is divided into various sections which follow the events as they happened. In this way the duraton of the earthquake is three minutes approx. The same as the dramatic section describing the death of 2000 people with an intense realism.
Video
Grabaciones En Catálogo