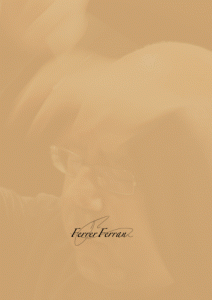 Tracklisting
Synopsis
Esta composición fue un encargo del II Festival Spanish Brass que se celebró en Alzira (Valencia – España) en el año 2004.
Una composición elaborada bajo un sistema modal, dando el color propio de los "brasses" que en su conjunción denota un clima áspero, delirante y hechicero.
Su forma de Divertimento divierte a los intérpretes y al que recibe el mensaje, en combinación de elementos, rítmicos y contrapuntísticos. Un "Blues" oscuro nos conduce a una danza macabra de violentas sonoridades.
El título "Ter i Anta" que significa "Por la Cara" (dicho que se utiliza cuando un trabajo se realiza sin aporte económico) en idioma "Quenya", la lengua de los Altos Elfos, viene por el acuerdo que se tomó para que se realizara esta composición cuando nunca hubo presupuesto para esta creación.
Esta obra rinde homenaje a todas las composiciones que por circunstancias son creadas de este modo…, a la "dura" y "triste" vida del compositor musical que siempre utiliza la creación para su "satisfacción" personal.
---
This composition was commissioned by the Spanish Brass Festival II held in Alzira (Valencia – Spain) in 2004.
A composition prepared under a modal system, giving the color for the "brasses" A conjunction denotes a harsh climate, delirious and sorcerer.
His Divertimento fun way to interpreters and receiving the message, in combination of elements, rhythmic and contrapuntal. A "Blues" dark leads to a macabre dance of violent sounds.
The title "Ter Anta" meaning "for free" (that which is used when a job is done without economic support) language "Quenya", the language of the High Elves, is the agreement that was made to this composition will be made when there was never any budget for this creation.
This work pays tribute to all the circumstances compositions are created in this way … the "hard" and "sad" music composer's life that always uses the setting for "satisfaction" personal.
Grabaciones En Catálogo