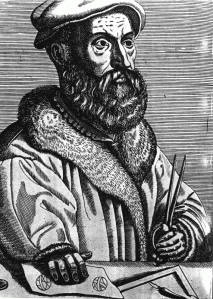 Tracklisting
Synopsis
Tartaglia

para Saxofón Alto y Piano
Niccolò Tartaglia (1499 – 1557). Matemático italiano. De apellido probablemente Fontana, su sobrenombre alude a la tartamudez que padecía. De formación autodidacta, su nombre está ligado principalmente a la resolución de la ecuación de tercer grado. En su General trattato di numeri et misure (1556 – 60) publicó la disposición triangular de los coeficientes de las sucesivas potencias de un binomio, llamado triángulo de Tartaglia lo cual viene a tratar esta obra musical.
Triángulo de Tartaglia es la disposición numérica formada a partir de los coeficientes de los distintos desarrollos de la potencia n-ésima de un binomio cuando n toma sucesivamente los valores 0, 1, 2, 3, etc.… Disponiendo en filas sucesivas dichos coeficientes para cada valor de n, se obtiene la siguiente configuración:
1
1        1
1        2       1
1       3       3       1
1        4       6        4       1
.   .   . .   .   .   .   .   .   .
Cada fila corresponde a los coeficientes del desarrollo de la potencia (n-1)-ésima de un binomio (n= 1, 2, 3, …) según la formula de Newton, siendo n el orden de lugar que ocupa dicha fila.
Siguiendo el orden de los números sobre dichas filas y creando dos series, una siendo la mezcla de dos modos y la otra una serie dodecafónica, nace esta obra musical toda ella basada en el orden de los números que forman el Triángulo, siendo respetado rigurosamente la creación de su contenido en su forma, melodía y ritmo.
---
Niccolò Tartaglia (1499 – 1557). The famons Italian Mathematician, whose true surname was probably Fontana, though he became known by his by-name, alluding to his defect of speech –stammering-, was self-taught and his name is connected mainly with the oblaining of a general solution to the cubic equation which lacks the simple term of the form x3 + ax2 + bx + c = 0. In his General trattato di numeri et misure (1556-60) he published the triangular arrangament of the coefficient of successive powers of a binomial, known as Tartaglia's Triangle which forms the base for this work of music.
The Trinagle of Tartaglia results from an arrangement of the coefficients of the varions nth power developments of a binomial, when n given the sucessive rows for each value of n, the following shape is obtained:
1
1        1
1        2       1
1       3       3       1
1        4       6        4       1
.   .   . .   .   .   .   .   .   .
Each row corresponds to the coefficients of the power development (n = 1, 2, 3…) following Newton's formula n being the number of location take by that row.
Following the order of the numbers in those rows and creating two series, one consisting of a mixture of two modes, and the other being a dodecaphonic series is how this piece of music has been developped, based entirely on the order of the numbers forming the triangle, whose contents is strictly followed in its form, melody and rhytm.
Video
Grabaciones En Catálogo