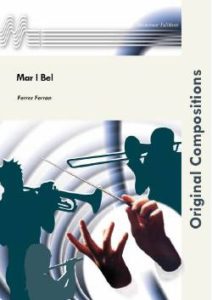 | | |
| --- | --- |
| Year | 1999 |
| Duration | 7:10 min. |
| Level | 3 |
| Editor | Musicaes |
Tracklisting
Synopsis
Mar i Bel
Fantasía española
Composición para Banda escrita en 1999. Obra dedicada y realizada para homenajear a José Tarazona por todas las ayudas que ofrece a la Sociedad Musical Banda Primitiva de Paiporta en la cual es director titular Ferrer Ferran.
De un juego de palabras nace "Mar i Bel", fantasía española, haciendo mención al nombre de su esposa, combinando el Mar con la belleza y el Sol de la tierra española.
La composición ofrece un combinado de ritmos típicos de España. Comienza la obra con la tradicional Malagueña, folckore de Málaga, palmas típicas de los gitanos y jolgorio acompañando a la cantaora que viene descrita por un gran solo de trompeta a modo de Copla. Durante la obra aparecen breves toques recordando a las jotas de Aragón. Toda la sección lenta es un canto en forma de Albaes, danza lenta que utiliza el cantaor para seducir a una persona, típicas de Valencia.
Toda la música describe la alegría e ilusión de las gentes que habitan ésta tierra de España donde tanto brilla el Sol y tanto sonido ofrece el claro Mar.
---
Composition for wind band written in 1999. A work written to pay tribute to Mr. José Tarazona for all the help he gives to the Banda Primitiva de Paiporta of which Ferrer Ferran is its official conductor.
            "Mar i Bel" takes its name from a play of words which uses Mr. Tarazona's wife's name, together with the sea (Mar, in Spanish) and the sun of the Spanish Land.
            The composition offers a combination of typically Spanish rhythms. The work starts with the traditional Malagueña, a folk song from Málaga, clapping in the gipsy style and merriment accompanying the female singer whose voice is taken by the trumpet affording a great solo in the style of a Copla. Along the piece there appear short passages reminding the listener of the "jotas" from Aragón. The whole of the slow section is a songing the form of "Albaes", a slow dance rhythm used by the "cantaor" (singer) to seduce his beloved one, typical from Valencia.
            All this music is descriptive of the happiness and excitement of the people who live in this Spanish land drenched with sunlight and filled with the sound afforded by the blue sea.
Video
Grabaciones En Catálogo