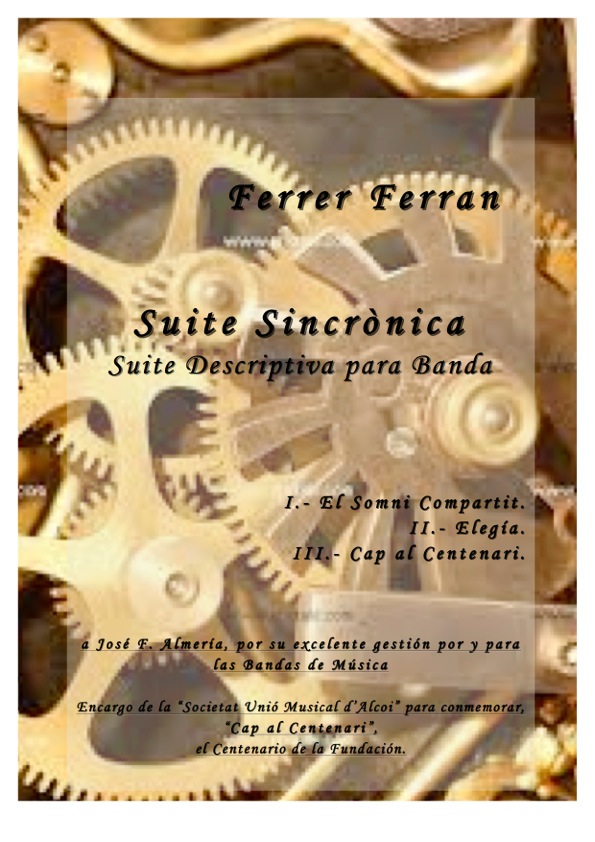 Tracklisting
Synopsis
Suite Sincrònica
Suite Descriptiva
Esta composición pretende hacer representar lo acontecido en los 100 años de andadura formando una sociedad cultural en base al arte de la música.
Glorias, éxitos, fracasos, acontecimientos, alegrías, penas,… todo necesario para forjar un emblema…, un algo que hace sentir ese color, ese sentimiento, ese aroma, esa "magia", que no tiene descripción…, y que dejándonos llevar, nos hace sentir bien, nos hace encontrar la paz, la tranquilidad, la vida…
Sus Tres Movimientos:
I.- El Somni Compartit.
II.- Elegía.
III.- Cap al Centenari.
En esta composición mostramos citas de fragmentos de partituras que han dado historia a esta sociedad. La música de G. Bizet que fue la primera obra que interpretaron para participar en su primer concurso de bandas, así como "Poeta y Aldeano" de Suppe o la marcha mora que lleva el nombre de la sociedad "UMDA" del autor J. Mª. Ferrero. Así como, la composición "Llanero y President" compuesta en el año 1963.
Todas estas, dan ese "recuerdo fresco" que al oír y sentir esta Suite, hace de esta composición, una obra repleta de emoción, de pasión, de ensueño…, en definitiva de una memoria limpia, sana y libre al manifestar en sonidos lo que el corazón nos expresa…, el "AMOR".
a José F. Almería, por su excelente gestión por y para las Bandas de Música
Encargo de la "Societat Unió Musical d'Alcoi" para conmemorar, "Cap al Centenari", el Centenario de la Fundación.
Esta Composición fue estrenada el día 25 de Febrero de 2006 en el "Salón Rotonda del Círculo Industrial" d' Alcoi (Alicante), interpretado por la Banda de la Societat Unió Musical d'Alcoi, dirigida por Javier Martínez.
---
This composition intends to represent what happened in the 100 years of existence forming a cultural society based on the art of music.
Glorias, successes, failures, events, joys, sorrows, … everything needed to build an emblem … a something that makes you feel that color, that feeling, that smell, that "magic", which has no description .. ., and getting carried away, makes us feel good, makes us find peace, tranquility, life.
Its three movements:
I. The Somni compartit.
II. Elegy
III. Cap the Centenari
In this composition fragments dating show scores that have history of this society. G. Bizet's music was the first play performed to participate in his first band contest and "Poet and Villager" Suppe or walking mora named society "UMDA" author JM . Ferrero. As the composition "Ranger and President" composed in 1963.
All these, give that "fresh memory" that hear and feel this Suite, makes this composition, a work full of emotion, passion, dream … in short of a clean, healthy and free memory to manifest in heart sounds which expresses us … the "LOVE".
Joseph F. Almería, for his excellent management and for Bands
Commissioned by the "Union Musical Society d'Alcoi" to commemorate, "Cap to Centenari" Centennial Foundation.
This composition was premiered on February 25, 2006 in the "Hall of Industrial Rotonda Circle" d 'Alcoy (Alicante), played by the Band of the Musical Union Society d'Alcoy, directed by Javier Martinez.
Video
Grabaciones En Catálogo