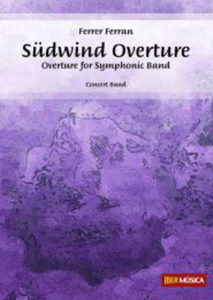 Tracklisting
Synopsis
Sudwind Overture
Symphonic Overture
La "Blasorchester Südwind" es una orquesta de vientos del Sur de Alemania que se forma para realizar conciertos en diversas temporadas. Ferrer Ferran fue Director Invitado en esta orquesta el pasado año 2004.
"Sudwind Overture" nace en una cena con el director técnico y músico de "Blasorchester Südwind", el Sr. Wernner Buchmann y algunos músicos más de esta orquesta, donde surge la posibilidad de la composición de una obra sinfónica dedicada a esta orquesta.
Ferrer Ferran acepta este encargo pero requiere, irónicamente, al Sr. Buchmann que le cante un motivo de cinco notas para que éstas sean el motivo generador de la composición. Wernner así lo hizo y cantó cinco sonidos a intervalos muy distantes que se referían a las notas:
Ab(3) – B(2) – D#(4) – E(4) – F(3).
Así pues, "Sudwind Overtura" toma forma desarrollando principalmente estos cinco sonidos, convirtiendo esta composición en una obra atractiva de mucho efecto y gran  imaginación.
Esta composición está dedicada a la «Blasorchester Südwind» de Alemania, con cariño y aprecio.
Esta composición fue estrenada por la "Blasorchester Südwind", dirigiendo  Stephen Melillo, el día 18 de Marzo de 2006, en Livemitschnitt (Alemania).

---
The «Blasorchester Südwind» is a wind orchestra of the South of Germany that forms to make concerts in diverse seasons.  Ferrer Ferran was Director Invited in this orchestra the past year 2004.
«Sudwind Overture» is born in a supper with the technical and musical director of «Blasorchester Südwind», Mr. Wernner Buchmann and some musicians more of this orchestra, where the possibility arises from the composition of a symphonic work dedicated to this orchestra.
Ferrer Ferran accepts this order but it requires, ironically, to Mr. Buchmann who sings a reason to him for five notes so that these are the generating reason for the composition.  Wernner therefore did it and sang five very distant sounds at intervals that talked about notes:
Ab(3) – B(2) – D#(4) – E(4) – F(3).
Therefore, «Sudwind Overtura» takes form developing mainly these five sounds, turning this composition an attractive work of much effect and great imagination.
This composition is dedicated to the «Blasorchester Südwind» of Germany, with affection and esteem.
This composition was premiered by the «Blasorchester Südwind» , conducting Stephen Melillo, on March 18, 2006, in Livemitschnitt (Germany).
Video
Grabaciones En Catálogo