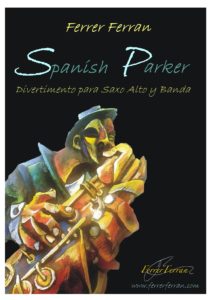 Synopsis
Spanish Parker
Divertimento para Saxofón Alto y Banda
"Spanish Parker" es una composición para Saxofón Alto y banda de gran virtuosismo para el solista. Una obra atrayente, divertida y seductora.
Charlie Parker, fue un saxofonista y compositor estadounidense de jazz, considerado uno de los mejores intérpretes de saxofón alto de la historia de ese género musical, siendo una de las figuras claves en su evolución.
"Spanish Parker" es una obra compuesta para premiar y reconocer la carrera musical de un saxofonista apasionado por la música sinfónica y del jazz y a su vez, admirador de Charlie Parker.
Para la composición de dicha obra, se han utilizados ráfagas y elementos de piezas del mismo Parker, como lo son: "Ornithology" o "Scrapple form the Apple". Y en tres secciones, "Allegro virtuoso" en la primera, con una "balada" al centro y una tercera sección al estilo "bugui-bugui", se remata una composición divertida al estilo "swing" que hace disfrutar al oyente sintiendo el inevitable ritmo seductor de la pieza desde principio y hasta el fin.
A Carlos Martínez Costa, por su constancia, tenacidad y amor por la música, de su madre y su hermano con mucho cariño y aprecio, al terminar su carrera como músico, deseándole, suerte, fuerza, empeño y dedicación siempre para que su carrera musical le brinde Felicidad.
Esta composición se estrenó el día 30 de Noviembre de 2013, en el Auditorio de "Allegro Centro Musical" de Valencia por la Banda de la Asociación Cultural "Allegro", siendo el saxofón solista Carlos Martínez Costa y dirigiendo el autor.
---
"Spanish Parker" is a composition for Alto Saxophone and Band virtuoso for the soloist. An attractive, fun and seductive work.
Charlie Parker, was an American jazz saxophonist and composer, considered one of the best interpreters of alto saxophone in the history of the genre, one of the key figures in its evolution.
"Spanish Parker" is a work composed to reward and recognize the career of a passionate saxophonist for symphonic music and jazz and in turn, an admirer of Charlie Parker.
For the composition of this work, we have used elements bursts and parts thereof Parker, such as: "Ornithology" or "form the Apple Scrapple". And in three sections, "virtuoso Allegro" in the first, with a "ballad" oc and a third section to "boogie-woogie" style a fun style composition "swing" does make the listener feel the inevitable is topped seductive rhythm of the piece from beginning to the end.
 A Carlos Martinez Costa, for their perseverance, tenacity and love of music, his mother and his brother with love and appreciation, to finish his career as a musician, wishing, luck, strength, determination and dedication provided for your career gives you happiness.
This composition was premiered on November 30, 2013, in the Auditorium of "Allegro Music Center" in Valencia by the Band of the "Allegro" Cultural Association, with the solo saxophone Carlos Martínez Costa and directing the author.
Video
Grabaciones En Catálogo