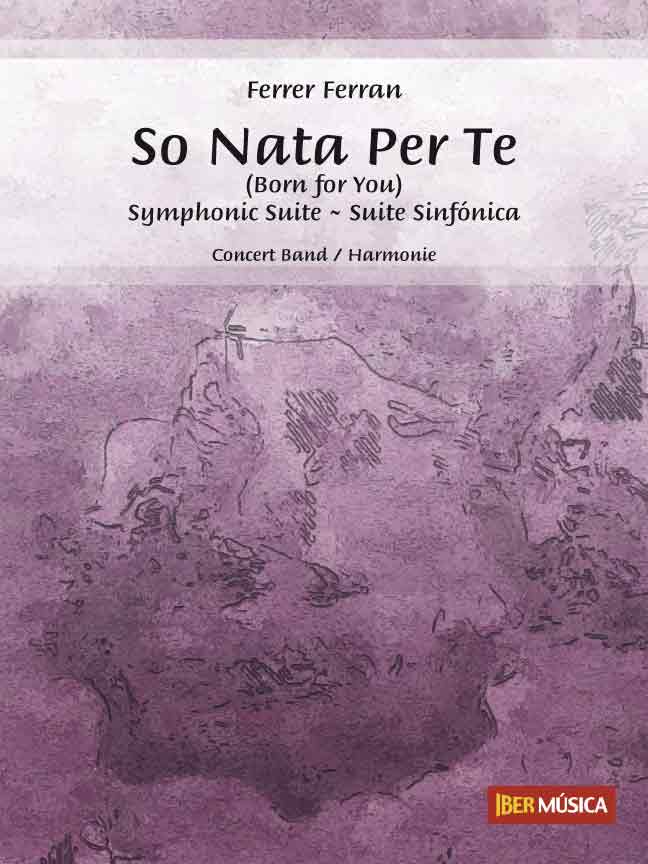 Tracklisting
Synopsis
SO NATA PER TE
Suite Sinfónica
Allegro Festivo.

Largo e molto expresivo.

Scherzo

Allegro Vivo.
"So nata per te", o lo que es lo mismo en su traducción al español " Nací para ti ", es una Suite Sinfónica que brota de la ilusión y los sentimientos de una persona apasionada por la música, enamorada de la vida y que venera a su querida y amada esposa.
Él realiza este encargo al autor, para inmortalizar toda una vida. Toda una vida llena de amor junto a su mujer, para así, a través de la música, cerrar los ojos y recordar todos y cada uno de los sublimes sentimientos que en el transcurrir de los años han compartido siempre juntos.
El 1er movimiento, nos transporta a su juventud y a sus primeras relaciones, nos adentramos desde el año 1957 al 69, rememorando canciones de la época como son "Chariot", "Perdóname" o "Diana".
En el 2º movimiento, se relata la década de 1970 a 1980 que comienza con el momento de sellar su eterna unión con el Matrimonio y continua con el posterior nacimiento de su hijo .Para recordar estos magnos acontecimientos, suenan melodías como: "Luna de miel ", "El amor es algo maravilloso" y "El cielo en casa".
Desde el año 1981 hasta el 2000, se quiere rendir homenaje a dos de sus grandes pasiones, la música y las tradiciones valencianas, vividas en la Casa del Senyoret en El Campot, en medio de La Albufera, donde se plantaron 20 años Fallas y se celebraron 20 Ciclos de Conciertos, junto con sus amigos. Gran parte de estas vivencias fueron dirigidas y ejecutadas por su gran amigo y profesor del autor, Perfecto García Chornet, genial pianista y concertista internacional.
En su recuerdo, al maestro Perfecto García Chornet, preludiando y estudiando el Scherzo Nº 2 de Chopin. El autor decide el subtítulo del 3º movimiento, queriendo   describir estos momentos: el Scherzo de Chopin, la nana para dormir al niño y el pasacalle típico de la falla que allí ellos mismos plantaban, haciendo gran mención al tan popular pasodoble "El Fallero ".
Y si toda su vida ha sido una gran pasión por su tierra y sus raíces , llega el momento de viajar y de la nueva ilusión, otro lugar donde vivir. El autor ha querido simbolizar estos viajes montados en el " Tren de la vida ", para así narrar desde el año 2001 y hasta nuestros días, el año 2010 cuando se realiza esta composición. En este periodo, las melodías que significan tanto para ellos son canciones como "L´italiano ", "My way "y finalizando con la apoteosis de la opera de Turandot de Puccini, con la fuerza de "Nessum Dorma ".
Una Suite de muchos contrastes, divertida por su contenido actual y moderno, interesante por los cambios de color y apasionada, porque a muchos de los oyentes les va a hacer recordar buenos momentos vividos, al reconocer deliciosas y conocidas melodías que transcurren en la composición, que aunque estas estén desvirtuadas todas ellas llegan a apreciarse.
 …a Pepe Domingo y Concha, por su gran entusiasmo y pasión por la música y por la veneración que se profesan.
Esta composición fue estrenada el día 27 de Febrero de 2010 en el Auditorio Florida de Paiporta, por la Banda Primitiva de Paiporta, bajo la dirección del autor, Ferrer Ferran.
---
"So Nata per Te", or what is the same in its Spanish translation "I was born for you" is a symphonic suite that comes from the illusion and feeling of a person passionate about music, love of life and worships his dear and beloved wife.
He made this request to the author, to immortalize a lifetime. A lifetime full of love with his wife, so that, through music, close my eyes and remember each and every one of the sublime feeling that the passing of the years have always shared together.
The 1st movement, takes us back to his youth and his early relationships, we move from 1957 to 69, recalling the era songs such as "Chariot," "Perdoname" or "Diana."
In the 2nd movement, recounts the decade of 1970-1980 beginning with the time to seal their eternal union with marriage and continuing with the subsequent birth of his son. To remember this great event, sounding tunes like "Honeymoon "" Love is a wonderful thing "and" The Sky at home. "
From 1981 to 2000, is to pay tribute to two of her greatest passions, music and traditions of Valencia, lived in the house of Senyoret in El Campot in the middle of the lagoon, where failures were planted 20 years and Concert held 20 cycles, along with his friends. Much of these experiences were directed and executed by his great friend and teacher of the author, Perfecto Garcia Chornet, great concert pianist and internationally.
In his memory, the teacher Chornet Perfecto Garcia, a prelude and studying the Scherzo No. 2 Chopin. The author chooses the subtitle of the 3rd movement, trying to describe these moments: the Scherzo of Chopin, the nanny to sleep in the child and the parade typical failure there they planted, with a strong reference to popular pasodoble "The Fallas".
And if your entire life has been a great passion for their land and their roots, it's time to travel and the new illusion, another place to live. The author wanted to symbolize these trips mounted on the "Train of Life", so telling since 2001 to the present day, 2010 when performing this composition. During this period, the tunes that mean so much to them are songs like "L'italiano", "My way" and ending with the apotheosis of Puccini's opera Turandot, with the force of "Nessun Dorma."
A suite of many contrasts, amused by their content and modern, interesting color changes and passionate, because many of the listeners are going to remember good times, recognizing delicious and popular melodies that take place in the composition, although these are invalidated all come to appreciate.
Video
Grabaciones En Catálogo