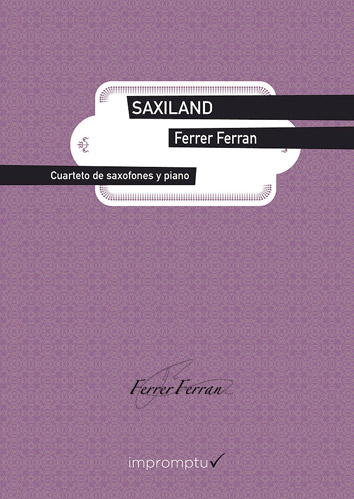 Tracklisting
Synopsis
Obra encargo, compuesta para el "VII Curso de Saxofón 'Ciutat de Carlet"' en el año 2000 y para los saxofonistas valencianos: José Luis Peris, Ramón Juan, J. Enrique Plaza, el pianista Adolfo García y especialmente al saxofonista Abdón García ya que gracias a él ha sido posible la creación de esta obra.
Esta Sonatina en tres movimientos para cuarteto de Saxofones y Piano hace introducir al espectador en el maravilloso mundo del Saxofón, como si de Disneyland se tratara.
Tres movimientos contrastantes hacen de esta obra una gran muestra de técnica, musicalidad y dinamismo.
El 1º de ellos Allegro Furioso está compuesto sobre un motivo de cuatro notas que surge del nombre del director del curso que realiza el encargo, ABDÓN (La – Si b – Re – Do). Una Danza furiosa da comienzo en una introducción estridente, desarrollada en la parte central de manera más melódica para finalizar reexponiendo el inicio furioso.
Lento molto expresivo da nombre al 2º movimiento, de gran expresividad y finura define la música como la llamada "Flor de la Felicidad".
El momento de la diversión llega en el 3º movimiento Allegro gracioso que compara el mundo fantástico de Disney al encantador mundo sonoro del grupo se Saxofones.
---
Custom work, composed for the "Saxophone Course VII 'Ciutat de Carlet"' in 2000 and Valencia saxophonists: José Luis Peris, Juan Ramón, J. Enrique Plaza, pianist Adolfo Garcia and especially Garcia and saxophonist Abdon thanks to it has been possible to create this work.
This three-movement Sonatina for Piano and Saxophone Quartet takes the viewer to enter the wonderful world of the saxophone, as if it were Disneyland.
Three contrasting movements makes this book a great show of technique, musicality and dynamics.
1 Allegro Furioso them is made on a four-note motif that arises from the name of the course director who takes the order, ABDÓN (La – Bb – D – Do). A furious dance starts in a raucous introduction, developed in the central part of most melodic way to finish restating the furious start.
Lento molto expressive names the 2nd movement, highly expressive and finesse define music as the "Flower of Happiness".
The moment of the fun comes in the 3rd movement Allegro funny comparing the fantasy world of Disney to the charming sound of the group Saxophones world.
Grabaciones En Catálogo