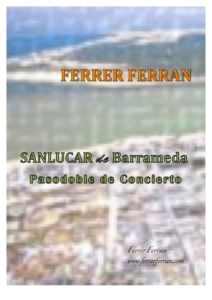 Tracklisting
Synopsis
Sanlucar de Barrameda
Pasodoble de Concierto
Sanlúcar es una ciudad mágica dentro de la Costa de la Luz, una ciudad de carreras de caballos. Estampa única de pura sangre corriendo por la playa a toda velocidad. Ciudad de fiestas, Semana Santa, La Feria de la Manzanilla, entre otras, hace que en la ciudad domine la alegría, el buen comer y por supuesto, el buen vino. Rodeada por la desembocadura del Guadalquivir, el Parque de Doñana y el mar Mediterráneo, Sanlúcar es naturaleza viva, latiente y única.
Sus playas, atractivas, por su arena fina color de oro y aguas terapéuticas. Un pueblo andaluz con encanto que no deja de sorprender al visitante con algo maravilloso en cada esquina. El paseo por el casco urbano de la localidad ofrece la posibilidad de descubrir un rico patrimonio monumental en el que destaca el castillo gótico de Santiago, la iglesia de Santa María de la O, el palacio de los duques de Medina Sidonia o el convento de Santo Domingo. Salúcar cuenta entre sus numerosos atractivos turísticos con el Parque Natural de Doñana, una de las mayores reservas biológicas de España.
Este pasodoble describe esta ciudad que de tanta belleza y esplendor, hace que esta obra armoniosa se convierta en una maravillosa pincelada musical.
Esta composición ha sido encargada y está dedicada a: a la Banda de Música "Julián Cerdán" de Sanlúcar de Barrameda para conmemorar el "25 Aniversario" de la fundación de su Asociación Filarmónica (1980-2005) y a su director titular y buen amigo, José Antonio López, en reconocimiento a su labor musical realizada durante estos últimos 15 años.
---
Sanlúcar is a magical city in the Costa de la Luz, a city of horse racing. Unique stamp thoroughbred running along the beach at full speed. City festivals, Easter, La Feria de la Manzanilla, among others, makes the city dominates the joy, good food and of course, good wine. Surrounded by the mouth of the Guadalquivir, Doñana Park and the Mediterranean Sea, Sanlúcar is living nature, beating and unique.
Its beaches, attractive for its fine sand golden color and therapeutic waters. A charming Andalusian village is surprising visitors with something wonderful in every corner. The walk through the town of the town offers the opportunity to discover a rich architectural heritage which highlights the Gothic castle of Santiago, the church of Santa María de la O, the palace of the Dukes of Medina Sidonia and the convent of Santo Sunday. Salúcar counts among its many attractions with Doñana Natural Park, one of the largest biological reserves in Spain.
This pasodoble describes this city so much beauty and splendor, makes this harmonious work becomes a wonderful musical touch.
This composition has been commissioned and is dedicated to:the Band "Julian Cerdán" from Sanlúcar de Barrameda to commemorate the"25th Anniversary" of the founding of the Philharmonic Association (1980-2005) and his director and good friend, José Antonio López, in recognition his musical work during the last 15 years.
Video
Grabaciones En Catálogo