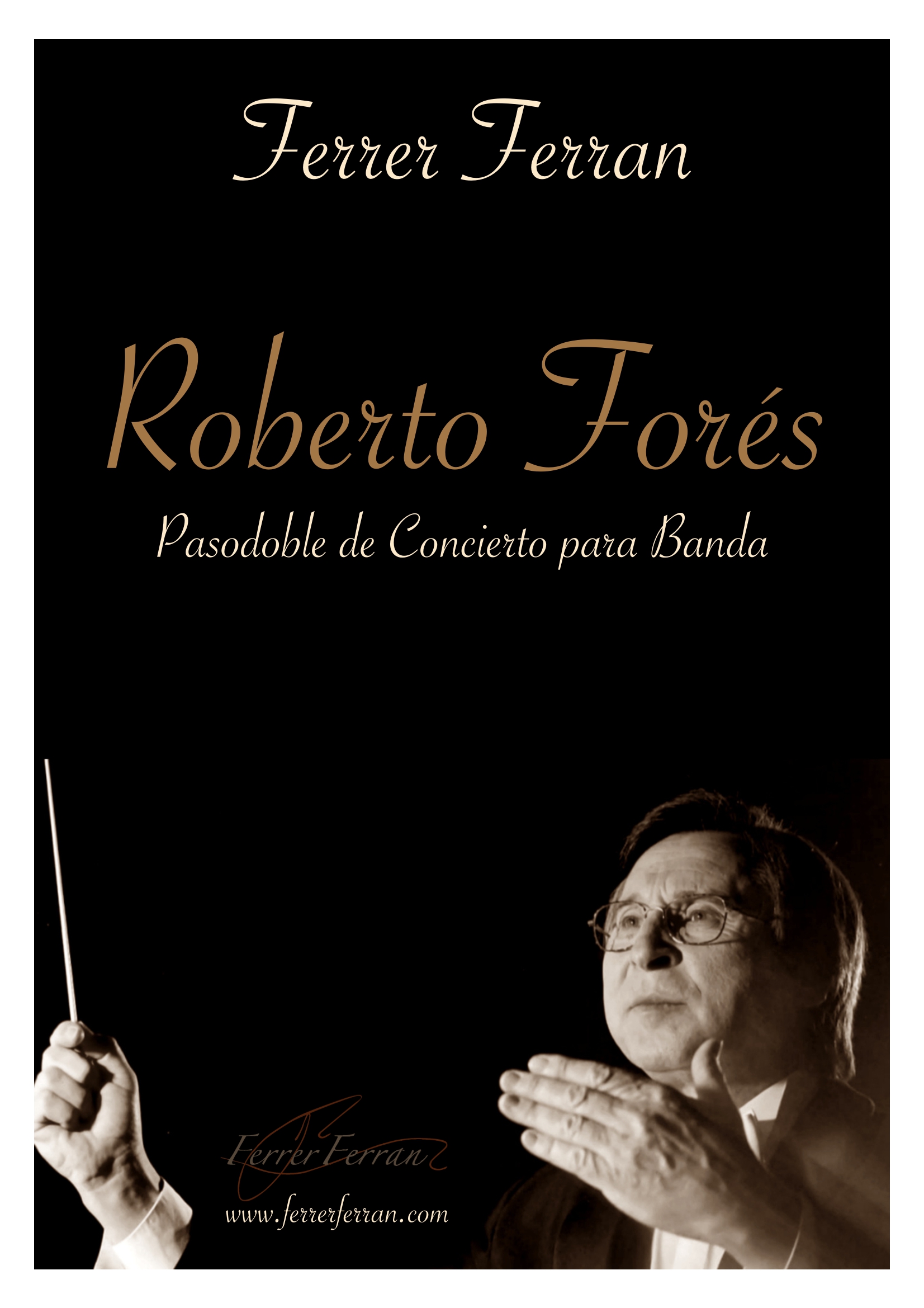 Tracklisting
Synopsis
Roberto Forés
Pasodoble de Concierto
El Pasosoble de Concierto "Roberto Forés" está compuesto y dedicado a una persona que ama la música, la disfruta y la ha hecho gozar toda su vida, en su faceta de director de orquesta, pedagogo, compositor y "Músico".
El autor quiere rendir un homenaje a esta persona con esta música, componiendo una obra en forma de pasodoble, donde "solera", "seriedad", "elegancia", "simpatía" y "musicalidad", representan el carácter del maestro Roberto Forés.
Con la firma del homenajeado:
F (Fa),   O (Do),   RE (Re),   S (Si),
el autor, conjugando estas, compone este elegante pasodoble donde en su trío queda plasmada la firma, con sus desarrollos oportunos y una armonía que le da un color seductor, para tratar así, de conmocionar tanto al intérprete como al espectador que disfruta de esta composición.
Al maestro Roberto Forés por su gran labor musical como director y pedagogo, con cariño, admiración y aprecio de su autor, por petición de la Sociedad Musical "Unión Musical de Carlet", junto a su directora Beatriz Fernández
Esta Composición fue estrenada el día 29 de Marzo de 2014 en el Teatro Giner de Carlet (Valencia – España), por la Banda Sinfónica "Unión Musical " de Carlet, dirigiendo el autor.
---
The Pasosoble Concert "Roberto Fores" is composed and dedicated to a person who loves music, enjoy enjoy and made it all his life, in his role as bandleader, educator, composer and "Musician".
The author wishes to pay tribute to this person with this music, composing a work as paso doble, where "solera", "seriousness", "elegance", "sympathy" and "musicality" represent the character of the maestro Roberto Fores.
With the signing of the honoree:
F (Fa), O (C), RE (D), S (B),
the author, combining these, make this elegant pasodoble where the company is reflected in his trio, with its timely development and harmony that gives a seductive color, to treat as well, to shock both the performer and the spectator enjoying this composition .
Roberto Fores teacher for his great musical work as director and teacher, with love, admiration and appreciation of the author, by request of the Musical Society "Union Musical de Carlet" with its director Beatriz Fernández
This composition was premiered on March 29, 2014 at the Teatro Giner de Carlet (Valencia – Spain), for the Symphonic Band "Musical Union" of Carlet, leading the author.
Video
Partitura / Score
Grabaciones En Catálogo