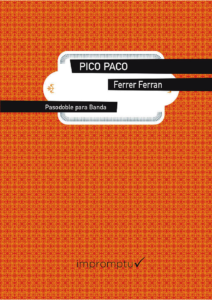 | | |
| --- | --- |
| Year | 2009 |
| Duration | 03:03 min. |
| Level | 2 |
| Editor | Impromptu |
Tracklisting
Synopsis
Pico Paco
Pasodoble Festivo
"Pico Paco" es un pasodoble sencillo, espontáneo y popular.
Este nos recordará la fiesta tan representativa y conocida en España, la fiesta taurina, marcado por unos pequeños motivos característicos populares de ella.
Así mismo, pensado para el pasacalle o desfile, y por un característico aire de fiesta, el cortejo lo hará más seductor y divertido.
Sencillo y cómodo de interpretar y siendo a su vez agradable de escuchar, es el pasodoble idóneo para que una banda o un grupo de músicos, disfruten de él, haciendo una delicia musical.
Esta Composición está dedicada …a Vicente Marco y Paco López, por su gran labor de apoyo y ayuda a la Banda Primitiva de Paiporta, con simpatía y agradecimiento del autor.
Obra estrenada el día 21 de Noviembre de 2009, en el Auditorio Florida de Paiporta, interpretada por la Banda Primitiva de Paiporta siendo dirigida por el director titular Ferrer Ferran
---
«Pico Paco» is a pasodoble simple, spontaneous and popular.
This will remind the party as representative and known in Spain, the bullfight, marked by small folk motifs characteristic of her.
Also, intended for the street parade or procession, and by a characteristic air of celebration, the procession will make it more enticing and fun.
Simple and easy to interpret and in turn be nice to hear, is the perfect paso doble to a band or a group of musicians, enjoy it, making a musical delight.
Video
Grabaciones En Catálogo