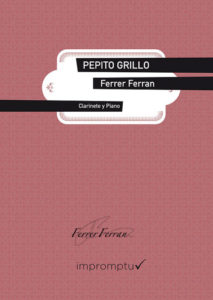 | | |
| --- | --- |
| Year | 2009 |
| Duration | 08:00 min. |
| Level | 2 |
| Editor | Impromptu |
Tracklisting
Synopsis
Pepito Grillo
Sonatina para Clarinete y Piano
Pepito Grillo, conocido en Latinoamérica como Pepe Grillo, es el personaje del Grillo parlante. El personaje más representativo de la película de Walt Disney que adapta la novela Las Aventuras de Pinocho de Carlo Collodi.
Este es la «conciencia» de Pinocho, el encargado, por el Hada Azul, de guiar al niño de madera por el buen camino. Para llegar a convertirse en un niño de verdad, y así poder expresar todos los dulces sentimientos que su corazón le dicta.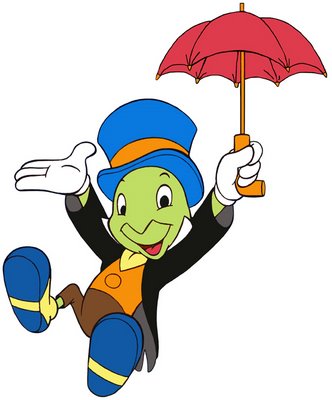 Esta pieza en forma de sonatina para clarinete y piano, sencilla, simpática, divertida y atrayente, servirá para entretener a los jóvenes intérpretes, formándose estos, como solistas del instrumento y a su vez para desarrollar una labor de concertista, interpretando esta bonita obra musical a un público para que le resulte agradable y a su vez, muestre una agraciada satisfacción haciendo sonar, «Pepito Grillo».
Esta Obra está dedicada, utilizándola como bonita metáfora, a una persona que su función principal es la de educar y guiar a muchos niños, y también, no tan niños, para que estos lleguen a tener una buena formación musical, tratando de que consigan alcanzar ser buenos músicos y mejor personas,
en la labor tan extraordinaria que está desarrollando en «Allegro Centro Musical».
A Pepe Ferrer, el primero de la saga, para que tu corazón siga siempre abierto a todos nosotros.
De tus hermanos en un día muy especial..

---
Jiminy Cricket, is the character of the speaker. The character most representative of the Walt Disney film adapting the novel The Adventures of Pinocchio by Carlo Collodi.
This is the «conscience» of Pinocchio, the manager, by the Blue Fairy, to guide the child timber in the right direction. To get to become a real boy, so we can express all the sweet sentiments of her heart.
This sonatina shaped piece for clarinet and piano, easy, friendly, fun and attractive, will entertain young performers, forming such as solo instrument and in turn to develop a concert work, playing this beautiful piece of music to an audience to make it nice and in turn, show a pretty sounding pleased, «Jiminy Cricket».
This work is dedicated, using it as a nice metaphor for a person that their principal role is to educate and guide many children, and not as children, so that they acquire a good musical education, seeking that achieve be good musicians and better people,
in the extraordinary work being developed by Allegro Music Center.
Video
Grabaciones En Catálogo