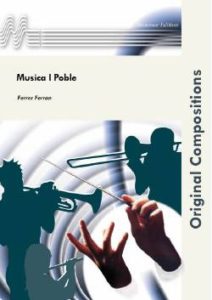 Tracklisting
Synopsis
Musica i Poble

Pasodoble de Concierto
Pasodoble compuesto para conmemorar el número 100 de la revista "Música i Poble" que edita la Federación de Sociedades Musicales de la Comunidad Valenciana.
Un pasodoble típico valenciano con una evolución armónica, lo convierte en una obra colorista y original que, con la cadencia de la trompeta, le da una personalidad de carácter español, pudiéndose así interpretar tanto en concierto como en los típicos pasacalles de nuestra tierra valenciana.
---
A pasodoble, composed to celebrate the issue N. 100 of the magazine "Musica i Poble" which is published by the Federació de Societats Musicals de la Comunitat Valenciana, in Valencia (Spain).
A typically Spanish pasodoble with a harmonic development which turns it into a colourful and original piece in which the trumpet cadence gives to it the essence of its Spanish character, making it suitable for performance as a concert piece, as well as for playing it as a march.
Video
Grabaciones En Catálogo