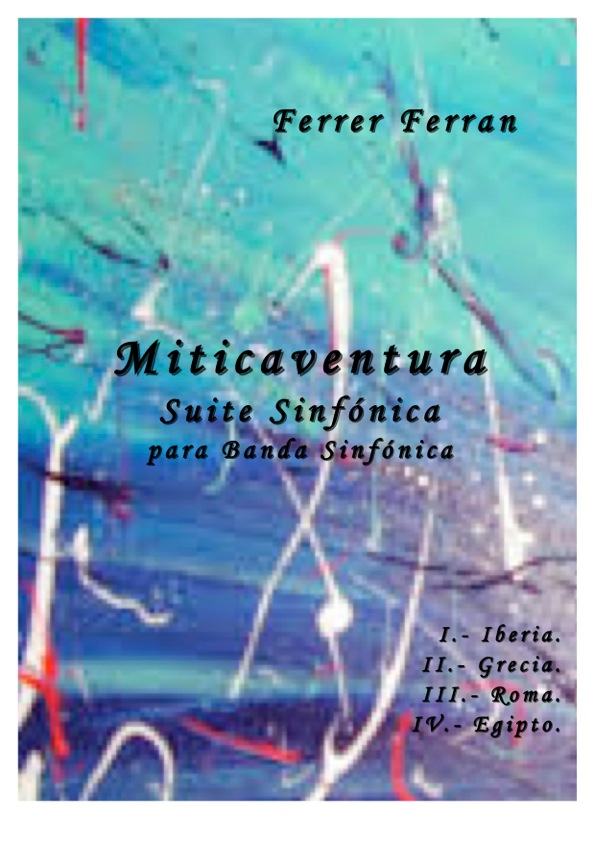 Tracklisting
Synopsis
MITICAVENTURA
SUITE SINFÓNICA
Primer Premio de Composición con la obra "Miticaventura" en el "XXIII Concorso Internazionale di Composicione originale per Banda" en Corciano (Italia). En la Primera Categoría, en 2002.
Esta Suite está inspirada en el gran parque temático del Mediterráneo, Terra Mítica. La obra trata de trasladar, mediante la música, al oyente a las leyendas mitológicas que han existido en las diferentes zonas que comprende el mar Mediterráneo.
Así, esta obra consta de cuatro tiempos, en las cuales describen lo acontecido mediante citas ayudando a la comprensión de cada uno de los movimientos:
I.- Iberia.
"Vive la Aventura".
El Barco de "Barbarroja".
"Al Abordaje".
Fiesta Mora.
      II.- Grecia.
Zeus, padre de Dioses.
Afrodita, Diosa del Deseo.
      III.- Roma.
El Circo Romano.
Gladiadores a la Arena.
Presentación de Gladiadores. "Ave Cesar, morituri te salutant".
El Duelo Mortal.
"¿Vida o Muerte, César?.
El Circo Romano muere…
      IV.- Egipto.
La Construcción de las Pirámides.
El Maleficio.
Danza Egipcia.
Despertar de la Momia.
"Vive la Aventura".
---
First Prize in Composition with the work "Miticaventura" in the "Concorso Internazionale di Composicione XXIII originale per Banda" in Corciano (Italy). In the first category, 2002.
This Suite is inspired by the Mediterranean large theme park, Terra Mitica. The work is moving through music, the listener mythological legends that have existed in different areas comprising the Mediterranean Sea.
Thus, this work consists of four times, in which the events described by appointment helping the understanding of each of the movements:
I. Iberia.
– "Live the Adventure".
– The Boat "Barbarossa".
– "Al Approach".
– Party Mora.
II Greece.
– Zeus, father of Gods.
– Aphrodite, Goddess of Desire.
III.- Rome.
– The Roman Circus.
– Gladiators of the Arena.
– Presentation of Gladiators. "Hail Cesar, morituri you salutant".
– The Mortal Duel.
– "Life or Death, Caesar ?.
– The Roman Circus dies …
IV Egypt.
– The construction of the Pyramids.
– The Hex.
– Egyptian Danza.
– Rise of the Mummy.
– "Live the Adventure".
Video
Grabaciones En Catálogo