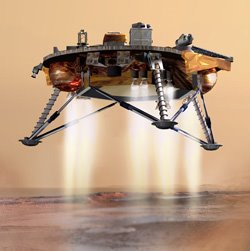 Tracklisting
Synopsis
Mars Polar Lander
  Cuatro Sketch para Trompeta y Percusión
I.- La NASA, el lanzamiento.
II.- Desliándose por el espacio.
III.- Pérdida de Contacto.
IV.- Danza Cósmica
…la NASA lanza al "Planeta Rojo" la sonda espacial "Mars Polar Lander", cuya misión es detectar agua en el subsuelo del planeta Marte. La sonda continua sin dar señales, se ha perdido todo contacto, pero las esperanzas de "despertarla" no están del todo perdidas. Hoy, enero de 2000, Mars Polar Lander continua en silencio….
---
 I. The NASA launch.
II. Desliándose space.
III. Lost contact.
IV. Cosmic Dance
… NASA launches the "Red Planet" spacecraft "Mars Polar Lander", whose mission is to detect water in the subsurface of Mars. The probe continues without signaling, has lost touch, but hopes to "wake" you are not entirely lost. Today, January 2000 Mars Polar Lander continuous silent ….
Video
Obra en Grabaciones