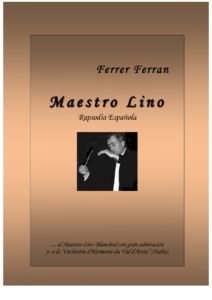 Tracklisting
Synopsis
Maestro Lino
Rapsodia Española
Maestro Lino es una composición viva, fresca, atractiva donde el matiz general y predominante es el estilo casto español. Con ritmo ternario y sobresaliendo el ritmo característico de "seguidillas" envuelve una rapsodia que en la parte central y a modo de "Copla" predomina el "cante" que viene mostrado con la trompeta.
Lino Blanchod, natural de Châtillon (Valle d'Aosta – Italia), es director desde el año 1982 del Instituto Musical d'Aosta y director titular de la "Orchestra d'Harmonie du Val d'Aoste". Un gran músico y director y una excelente persona que al haber viajado en varias ocasiones a España a hecho de él, ser un gran apasionado de esta soleada tierra, España.
Ferrer Ferran compone esta pieza para este amigo, y para de alguna manera, inmortalizar el recuerdo de la visita que realizó al Valle d'Aoste, teniendo muy buena acogida por parte de músicos, director y público al dirigir esta magnífica orquesta de la cual es director titular el MAESTRO LINO.
Esta seductora Rapsodia Española hará recordar el excelente carácter español: divertido, aventurero e improvisador y hará de ella, una delicia a la interpretación debido a su armonía colorista y atrayente.
Esta composición está dedicada a:
… al Maestro Lino Blanchod con gran admiración y a la "Orchestra d'Harmonie du Val d'Aoste" (Italia).
 Estreno el 7 de Abril de 2006 por la "Orchestra d'Harmonia du Val d'Aoste", dirigida por el autor en Novi Ligure (Italia).
---
Maestro Lino is a lively, fresh, attractive composition where the general and predominant hue is the Spanish chaste style. With ternary rhythm and projecting the characteristic rhythm of «rollovers» involves a rhapsody in the central part and by way of «Ballad» predominant «singing» that comes with trumpet shown.
Blanchod Lino, natural Chatillon (Valle d'Aosta – Italy), a director since 1982 of d'Aosta Musical Institute and principal conductor of the «Orchestra d'Harmonie du Val d'Aoste». A great musician and a great person and having traveled several times to Spain made it to be a big fan of this sunny land, Spain.
Ferrer Ferran composed this piece for this friend, and somehow immortalize the memory of the visit to the Valle d'Aoste, being very well received by musicians, director and audience lead this magnificent orchestra which is MASTER LINO conductor.
  This seductive Spanish Rhapsody will remember the excellent Spanish character: funny, adventurous and improviser and make it a delight to interpretation because of its colorful and attractive harmony.
This composition is dedicated to:
… Master Lino Blanchod with great admiration and «Orchestra d'Harmonie du Val d'Aoste» (Italy).
Released April 7, 2006 by the «Orchestra d'Harmonia du Val d'Aoste» directed by the author in Novi Ligure (Italy).
Video
Grabaciones En Catálogo