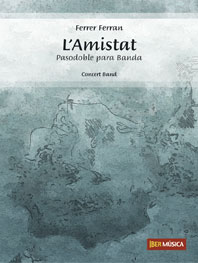 Tracklisting
Synopsis
L'Amistat
pasodoble for Band
Este es un pasodoble de aire valenciano y español. Se puede interpretar tanto en concierto como en los pasacalles tan tradicionales de la comunidad valenciana. Su colorido hace de esta pieza un buen uso para interpretarse en todo el mundo, incluido en un programa de concierto o como una buena obra de regalo.
… a la Banda de la Agrupación Musical "L'Amistat" de Quart de Poblet y a su director titular y buen amigo, Llorens Mendoza, en reconocimiento a su gran labor musical…
---
This it is a pasodoble of Valencian and Spanish air. So much in concert as in pasacalles so traditional of the Valencian community can be interpreted. Its colorful one makes of this piece a good use to interpret itself anywhere in the world, including in a concert program or as a good work of gift.
… to the Band of the Musical Grouping "L'Amistat" of Quart de Poblet and to its titular director and good friend, Llorens Mendoza, in recognition to its great musical work…
Video
Grabaciones En Catálogo