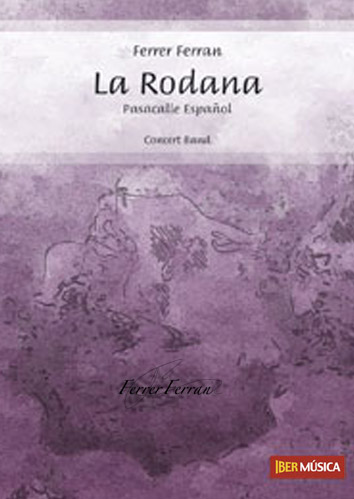 Tracklisting
Synopsis
El pasacalle español es un hecho muy representativo de nuestras tradiciones en España. Este es de carácter de marcha pero de forma majestuosa y pausado, luciendo así el perfil de chuleo que caracteriza al típico personaje español de los años 60.
Esta composición, no sólo muestra este estilo de obra sino también recuerda el espectáculo por excelencia español como es la fiesta Taurina, las famosas corridas de toros.
La Radona es un pequeño núcleo de viviendas cercano a la ciudad de Valencia donde se organizan unos festejos anuales, todos ellos de carácter festivo cultural.
Esta obra está dedicada a Javier Almenar, gran amigo del autor, que reside en La Rodana y por la gran dedicación que cumple a la "Banda de la Asociación Cultural Allegro" y por la excelente labor que realiza por "mi banda" y a mi música.
Este pasacalle se estrenó el 12 de Junio de 2004 en la urbanización "La Rodana" dirigido por el autor y realizando un homenaje a Javier Almenar.

---
With appreciation for my good friend Javier Almenar for the excellent work done by "my band" and my music.
The Spanish pasacalle is very representative of our traditions in Spain done. This character is running but stately and leisurely way and wearing the pimping profile that characterizes the typical Spanish character from the 60s.
This composition not only shows this style of work but also remember the show by Spanish the feast excellence like Taurine, the famous bullfights.
La Radona is a small village near the city of Valencia where annual celebrations are organized homes, all cultural festive.
This work is dedicated to Javier Almenar, a great friend of the author, who lives in La Rodana and the dedication that meets the "Allegro Band of the Cultural Association".
The pasacalle premiered on June 12, 2004 at the "La Rodana" directed by the author and performing a tribute to Javier Almenar.
Video
Grabaciones En Catálogo