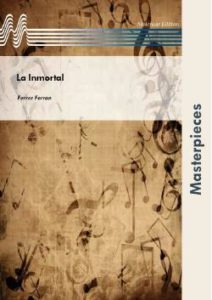 Tracklisting
Synopsis
La Inmortal
Poema Descriptivo
En 1851 tuvo lugar en Londres una partida de ajedrez entre dos grandes maestros, Anderssen (Inglés) y Kiesevitzki (Ruso).
Dicha partida fue considerada una de las más bellas que se han jugado a lo largo de la historia. Por éste motivo se la bautizó con el nombre de «La Inmortal». En ella, Anderssen deja matar piezas importantes, como la reina, para obtener el espectacular mate final.
¿Qué ocurriría si ésta partida se llegara a humanizar dentro de nuestra imaginación a través de la música?
Grandes castillos, caballerías, peones como soldados de guerra distribuidos en dos reinados que luchan para obtener su independencia.
Al comienzo, las diversas tropas enfrentadas forman en una gran explanada para defender sus fortalezas y castillos (introducción). Las llamadas de los metales dan comienzo a la batalla…
Mientras, en el castillo reina la calma que presagia el gran desenlace. Los reyes, ajenos a la guerra, bailan en la sala de los espejos pero son interrumpidos ante el aviso de un nuevo ataque.
El valor y el sacrificio están reflejados en la figura de la reina, que es capaz de sacrificarse para salvar a su pueblo. Lucha con todas sus fuerzas pero cae en el campo de batalla.
Obra Compuesta para la Banda "Juventud Musical de Quart de les Valls", para interpretarla en la 3ª Sección del Certamen Internacional de Bandas de Música. Obra dedicada a Alberto Mitjanas y Alberto Mitjanas (junior).
---
In 1851 a chess match between two great masters, Anderssen (English) and Kiesevitzki (Russian) took place in London.
This item was considered one of the most beautiful that have played throughout history. For this reason he gave it the name "The Immortal". In it, lets kill Anderssen important pieces, like the queen, for the spectacular matte finish.
What if this item is reached humanize within our imagination through music?
Great castles, horses, laborers and soldiers war on two kingdoms fighting for independence.
At first, the various warring troops formed in a large square to defend their fortresses and castles (introduction). Calls for metals given start to battle …
While the castle is calm foreshadowing the great outcome. Kings, outside the war dance in the hall of mirrors but are interrupted before the announcement of a new attack.
The courage and sacrifice are reflected in the figure of the queen, who is able to sacrifice himself to save his people. Fight with all his strength but falls into the battlefield.
Composite Works for the "Musical Youth Quart de les Valls" Banda, to interpret it in the 3rd Section of the International Contest of Bands. Work dedicated to Alberto Mitjanas and Alberto Mitjanas (junior).
Video
Grabaciones En Catálogo