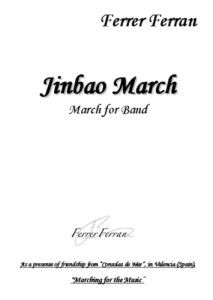 Tracklisting
Synopsis
Esta marcha es un regalo de sus amigos de "Consolat de Mar", en Valencia, España, mencionando el lema, "Marchando por la Música".
La compañía de instrumentos musicales "Tianji Jinbao" ha estado fabricando una amplia gama de instrumentos musicales y accesorios en China, durante los últimos 26 años.
Estos están dedicados a los productos de calidad y un servicio superior a los clientes. A ellos les complace suministrar instrumentos musicales y contribuir para un mundo más educado y pacífico.
"Jinbao March" es una marcha, pomposa y grandiosa que al contrastar con su dulce melodía lleva a esta marcha a gozar de una complacencia musical.
As a presente of friendship from "Consolat de Mar", in Valencia (Spain), "Marching for the Music"
Esta Composición fue estrenada el día 13 de Julio de 2007 en el Auditorio de Pekín (China), por una Banda formada por músicos profesionales de la Comunidad Valenciana, dirigiendo Ricardo Casero con motivo de unas jornadas de bandas de música de todo el mundo para exaltar el espíritu olímpico.
---
This march is a gift of its friends of "Consolat de Mar", in Valencia, Spain, mentioning the motto, "Marching along the Music".
The company of musical instruments "Tianji Jinbao" has been manufacturing an extensive range of musical instruments and accessories in China, during the last 26 years. These they are dedicated to the products of quality and a service over the clients. To them it pleases them to supply musical instruments and to contribute for a peaceful and more educated world.
"Jinbao March" is a march, pompous and magnificent that al to contrast with its sweet melody carries to this march to enjoy a musical complacency.
Grabaciones En Catálogo