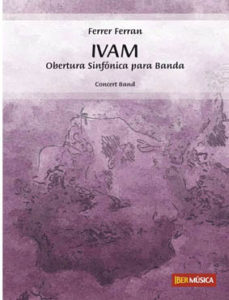 Tracklisting
Synopsis
IVAM
Obertura Sinfónica para Banda Sinfónica
El Instituto Valenciano de Arte Moderno IVAM tiene como objetivo la investigación y difusión del arte del siglo XX. Su programa de actividades ofrece: Colecciones permanentes, exposiciones temporales, conferencias, cursos, talleres, conciertos y edición de publicaciones.
De una Música efectista, grandiosa, actual, moderna y por momentos con pequeñas pinceladas al jazz describe esta Obertura Sinfónica que está inspirada en la filosofía del arte, el arte que expone regularmente este emblemático edificio.
Para cumplir su XVIII Aniversario se compone esta pieza como homenaje a la creación e investigación…, al arte moderno que tan necesario es, para llevar a cabo nuestras indagadoras vivencias.
Encargo del Instituto de Arte Moderno (IVAM), Valencia, España, para conmemorar el "XVIII Aniversario" de su Fundación.
Esta obra fue estrenada el día 18 de Febrero de 2007, por la Banda de la Federación de Sociedades Musicales de la Comunidad Valenciana, dirigiendo el propio autor, Ferrer Ferran en el Instituto de Arte Moderno, IVAM, de Valencia.
---
The Valencian Institute of Modern Art IVAM has as an objective the investigation and diffusion of the art of the 20th century. Its program of activities offers: Permanent collections, temporary expositions, conferences, courses, workshops, concerts and edition of publications.
Of a modern, current, magnificent, sensationalist Music and for moments with small brushstrokes al jazz describes this Symphonic Overture that is inspired in the philosophy of the art, the art that exposes regularly this symbolic building.
To comply its XVIII Anniversary is composed this piece as homage to the creation and investigation. .., al modern art that so necessary is, for carry out our indagadoras experiences.
Video
Grabaciones En Catálogo