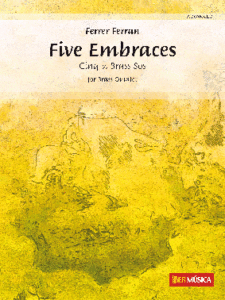 Tracklisting
Synopsis
Five Embraces (Cinc a Brass Sos)
Cinco Episodios para Quinteto de Metal
Pieza divertida y seductora, donde el autor describe con excelente humor los cinco instrumentos que comprenden la clásica plantilla del quinteto de metal.
Un juego de palabras en todos sus títulos ofrece el autor, un abrazo a cinco amigos músicos, a los cinco componentes del quinteto de metales que siempre interpreten esta sintonía.
Estos son sus Episodios:
I. El Tromp Etados
II. El Horn Ijero
III. The Tromb One
IV. En Bass Ados
V. La Prim Eratrom Peta
Esta obra está dedicada:
A "Vent de Llevant" por su excelente calidad humana y musical.
---
Seductive and amusing piece, where the author describes with excellent humor the five instruments that understand the clsica staff of the quintet of metal.
A pun in all their ttulos offers the author, a hug to five friends msicos, to the five components of the quintet of metals that always they interpret this sintona.
These are their Episodes:
I. El Tromp Etados
II. El Horn Ijero
III. The Tromb One
IV. En Bass Ados
V. La Prim Eratrom Peta
Video
Grabaciones En Catálogo