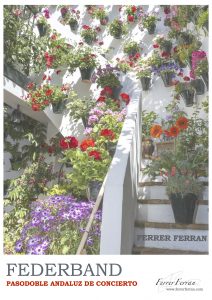 Tracklisting
Synopsis
Federband
Pasodoble Andaluz de Concierto
El Pasodoble Andaluz nos lleva a esas encantadoras tierras donde el arte Español predomina como elemento de color, de pasión, temperamento, solera…
Esta pieza describe estos elementos, este carácter, que motivado por este género, nos seduce un aire puro andaluz.
La Majestuosidad combinada con el matiz del pasodoble español nos deleitará como una pieza de concierto agradable, seductora y morbosa a su vez.
Esta Composición está dedicada A todas las Bandas y Músicos de Andalucía
Obra encargada por la Federación Andaluza de Bandas de Música, FEDERBAND, como homenaje a todos los músic@s de Bandas amateur de nuestra comunidad
Esta Composición fue estrenada el día 21 de Octubre de 2006 en el "Auditorio Maestro Padilla" de Almería, en el Concierto de clausura del "I Curso Nacional de Dirección de Bandas de Música", por la Agrupación Musical "San Indalecio" de La Cañada (Almería), dirigiendo el Autor.
---
The Andalusian Pasodoble leads to such lovely Spanish land where art element predominates as color, passion, temperament, character …
This part describes these elements, this character, motivated by this genre, seduces us clean air Andalusian.
The Majesty combined with the hue of Spanish paso doble delight us as a piece of nice, seductive and morbid turn concert.
This composition is dedicated In all Bands and Musicians of Andalusia
Work commissioned by the Andalusian Federation of Bands, FEDERBAND as a tribute to all músic @ s of amateur bands from our community
This composition was premiered on October 21, 2006 in the «Maestro Padilla Auditorium» of Almería, in the closing concert of the «First National Course Directors of Bands» for the musical group «San Indalecio» La Cañada (Almería), directing the Author.
Video
Grabaciones En Catálogo