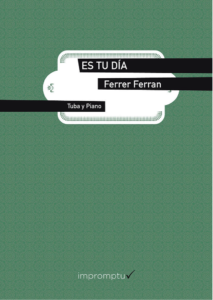 Tracklisting
Synopsis
Es tu Día
  Tres Estudios para Tuba, Bombardino o Trombón y Piano
"Es tu Día" es una obra muy sencilla, cautivadora y atractiva de interpretar y de escuchar. Pensada para jóvenes tubistas o bombardinistas, para que sus comienzos sean provechosos y agradables, pudiendo interpretar en conciertos y audiciones esta agradable pieza.
"Es tu Día", es un título que esconde un subliminal necesario para el aprendizaje de la música, se trata de la palabra "estudia", el elemento básico y esencial para desarrollar con efecto este bonito arte.
Tres estudios que describen momentos de la vida de la persona tubista a la cual está dedicada la pieza. El primero "Facilet y Llïdor" (Fácil y Lucidor) como hipótesis de ver la vida en positivo con un optimismo necesario para encontrar la felicidad. El segundo "Brisa de Gandía", los momentos inolvidables que ofrece el mar y la playa de Gandía. Y la afición por el ajedrez hace que sea el descriptor de este tercer movimiento titulado "Moviment d'Escacs" (Movimiento de las fichas del ajedrez).
Esta Composición está dedicada A Alberto Mitjanas, gran persona, amante de la vida y de la música, y a su amada esposa Luisa. De sus amigos Marisa y Fernando.
Esta Composición fue estrenada el día 26 de Febrero de 2011 en el "Auditorio de Allegro Centro Musical" de Valencia, por Alberto Mitjanas a la tuba acompañada por su hija Baucis Mitjanas al Piano.
---
 "It's your day" it is a simple, captivating and engaging work of interpreting and listening. Designed for young tuba players or bombardinistas, so its beginnings are helpful and friendly, and can be interpreted in concerts and recitals this nice piece.
"It's your day" is a title that hides a need for subliminal learning music, it comes from the word "study" the basic and essential to develop effective this beautiful art element.
Three studies describing moments of the life of the tuba person to whom the piece is dedicated. The first "Facilet and Llïdor" (easy and Lucidor) hypothesized to see life in a positive needed to find happiness optimism. The second "Gandia Breeze", the unforgettable moments offered by the sea and the beach of Gandia. And the passion for chess makes it the descriptor of this third movement entitled "Moviment d'Escacs" (Moving checkers chess).
This composition is dedicated to Alberto Mitjanas, great person, lover of life and music, and his beloved wife Louise. Your friends Marisa and Fernando.
This composition was released on February 26, 2011 in the "Allegro Music Center Auditorium" of Valencia, Alberto Mitjanas the tuba accompanied by her daughter Baucis Mitjanas the Piano.
Video
Obra en Grabaciones