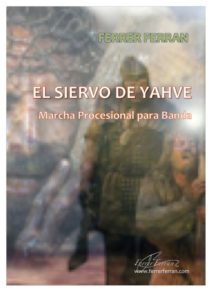 Synopsis
Como dice la lectura del libro de Isaías 52, 13-53, 12.: "Mirad, mi siervo tendrá éxito, subirá y crecerá mucho.Como muchos se espantaron de él, porque desfigurado no parecía hombre, ni tenía aspecto humano, así asombrará a muchos pueblos, ante él los reyes cerrarán la boca, al ver algo inenarrable y contemplar algo inaudito."
Unos toques de corneta anuncian el comienzo de la franqueza, una melodía sincera, pulcra y con una hermosura atrayente.
Su parte central y triunfal gozan de la seguridad que hace conducir a la bonita melodía ultima, que rematada con un complaciente contrapunto, remata esta hermosa marcha, que deja satisfacción y felicidad.
Esta Composición está dedicada "a la Venerada Imagen de El Nazareno de la Parroquia Matriz del Apóstol Santiago de Los Realejos, Tenerife".

---
As stated in the reading of Isaiah 52, 13-53, 12.: "See, my servant shall succeed, come up and grow a lot. As many were astonished at him because he did not look disfigured man, had no human aspect, and surprised many people before him kings shall shut their mouths, seeing something unspeakable and see something unprecedented. "
A bugle announced the start of openness, a sincere melody, neat and attractive with a beauty.
Its central and triumphant enjoy the security that makes driving to the beautiful melody last, which finished with a pleasing counterpoint, ends this beautiful place, which leaves satisfaction and happiness.
Video
Partitura / Score