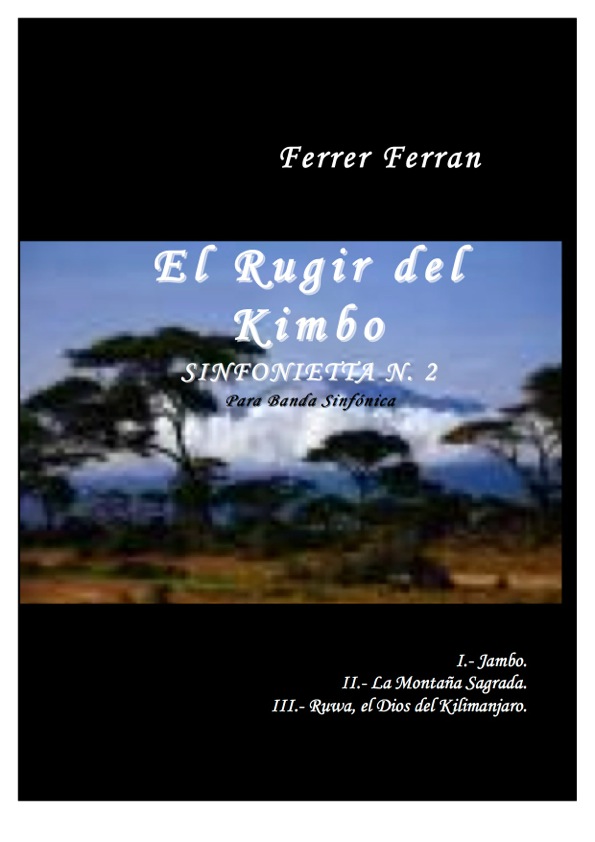 Tracklisting
Synopsis
El Rugir del Kimbo
SINFONIETTA N. 2
La grandeza del Kimbo, Kilimanjaro, hace que el culto tenga un espacio mágico y grandioso, natural, invencible, bello y poderoso.
I.- Jambo.Sinfonietta en Tres Movimientos:
II.- La Montaña Sagrada.
III.- Ruwa, el Dios del Kilimanjaro..
El Kimbo, como se hacía llamar al Kilimanjaro, es un nombre mítico. Es llamado también "El Techo de África". Su grandeza, sus maravillas, hacen de este territorio un lugar que despierta el interés a las leyendas, los mitos y las aventuras.
La África negra, sus tribus, Los Masai, Los Swahilis y muchos más, llaman a este volcán Ol Doinyo Lengai, que en su lengua significa "La Montaña de Dios"…, también la denominan, "La Montaña Sagrada".
En Tanzania, según dicen, el volcán Kilimanjaro era un Dios. Hace miles de años era muy importante en este lugar, por que cuidaba a todos sus habitantes. Y según ahora, cada vez que van atacar a la ciudad o el país, el volcán lanza una fumarola para alertar al país; muchos se asustan porque piensan que dentro del volcán hay un ser o un alma viviente.
"El Rugir del Kimbo" está ambientado en todo este mundo legendario y divino, predominando sus danzas y sus ritos ancestrales. Su grandeza y su maravilla natural simbolizan gran cantidad de reclamos, gritos, rugidos, creando un ambiente, repleto de ritmos africanos, describiendo así, un fascinante mundo de leyendas.
Esta composición está dedicada a: La Sociedad Instructiva Unión Musical de Monserrat y a su director titular, José Onofre Díez Monzó, por su gran labor como director.
"El Rugir del Kimbo" ha sido compuesta por encargo de esta Sociedad para interpretarla en el Certamen Internacional de Bandas de Música "Ciutat de Valencia" en el año 2005.
---
The greatness of the Kimbo, Kilimanjaro, makes that the cult has a magical and huge space, natural, invincible, beautiful and powerful.
 Sinfonietta in Three Movements:
– Jambo

– The Sagrada Mountain.

– Ruwa, the God of the Kilimanjaro..
The Kimbo, like was made call to the Kilimanjaro, is a mythical name. The Ceiling of Africa is also called "". Their greatness, their wonders, makes of this territory a place that wakes up the interest to the legend, myths and the adventures.
Black Africa, their tribes, the Masai, the Swahilis and many more, call to this volcano Ol Doinyo Lengai, which in their language means "the Mountain of God"…, also they denominate it, "the Sagrada Mountain".
In Tanzania, according to they say, Kilimanjaro volcano was a God. It does thousands of years was very important in this place, so that it took care of all its inhabitants. And according to now, whenever they go to attack the city or the country, the volcano sends a fumarola to alert to the country; many are scared because they think that within the volcano there is a being or a living soul.
"the Rugir of the Kimbo" is acclimated in all this legendary and divine world, predominating its ancestral dances and their rites. Their greatness and its natural wonder symbolize great amount of reclamations, shouts, roars, creating an atmosphere, filled with African rates, thus describing, a fascinating legend world.
This composition is dedicated a: The Instructive Society Musical Union of Monserrat and to its titular director, Jose Onofre Díez Monzó, by its great work like director.
"the Rugir of the Kimbo" has been composed by order of this Society to interpret it in the Contest the International of Bands "Ciutat of Valencia" in 2005.
Video
Grabaciones En Catálogo