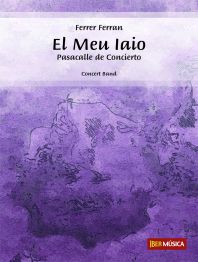 Tracklisting
Synopsis
El Meu iaio
Pasacalle de Concierto
"El Meu iaio" (Mi Abuelo), es un pasacalle fresco, seductor y de corte español. Una pieza de concierto, con un bello colorido, que hace de esta una obra atrayente, simpática y agradable.
Octavi Ruiz es una persona ilusionada por la música, una persona que trabaja por la cultura, la formación y la educación músical,… un gran emprendedor. Octavi Ruiz "es profeta en su tierra". Él es el director titular de la "Societat Musical 'La Lira Ampostina'" de Amposta, y este Pasacalle de Concierto está compuesto para él por encargo de sus músicos, después de estar 25 años al frente de esta excelente Banda de Música.
Su Abuelo, Agustí Ruiz Tomás ya auguraba que su nieto Octavi sería el director de esta banda de música cuando este todavía era un niño. Desde muy temprana edad le acompañaba a su "iaio" a todos los conciertos de relevancia y después de escuchar a las grandes bandas le decía: -Iaio, en Amposta, en música estamos a años luz de esta gente, y él le respondía: -Sí hijo mío, pero "La Lira Ampostina" llegará a sonar como estas bandas y también podrá participar en grandes concursos…
Octavi Ruiz ha conseguido llevar a los niveles más altos, a esta magnífica Banda de Música como su "iaio" Agustí, predecía.
Esta Composición está dedicada
A Octavi Ruiz, per la seua dedicació durant 25 anys com a director de la Banda "La Lira Ampostina".
(A Octavi Ruiz, por su dedicación durante 25 años como directos titular de la Banda "La Lira Ampostina".)
Encàrrec de la Societat Musical "La Lira Ampostina" de Amposta.
(Encargo de la Sociedad Musical "La Lira Ampostina" de Amposta.
---
"El Meu iaio" (My Grandfather), is a seductive, fresh passacaglia and of Spanish cut. A piece of concert, with a beautiful color, that does of this a pleasant, nice, and attractive work.
Octavi Ruiz is a person I excite for the music, a person that works for the culture, the formation and the education músical, … a great enterprising. Octavi Ruiz "is a prophet in her land". He is the regular director of the "Societat Musical 'La Lira Ampostina'" of Amposta, and this Passacaglia of Concert is composed for him by assignment of its musicians, after being 25 years al front of this excellent Band of Music.
His Grandfather, Agustí Ruiz Tomás already foretold that his grandson Octavi would be the director of this band of music when this still was a boy. Since very early age he accompanied to his "iaio" to all the concerts of importance and after listening to the large bands he told him: -Iaio, in Amposta, in music we are to light years of this people, and he responded him: -Yes my son, but "La Lira Ampostina" will come sound like these bands and will also be able to participate in large contests…
Octavi Ruiz has managed to carry to the highest levels, to this magnificent Band of Music as its "iaio" Agustí, predicted.
This Composition is dedicated To Octavi Ruiz, by its dedication for 25 years as direct holder of the Band "The Lira Ampostina".
Assignment of the Musical Company "The Lira Ampostina" of Amposta.
Video
Grabaciones En Catálogo