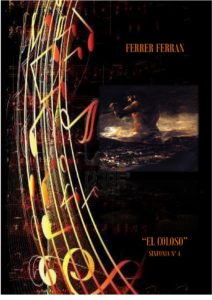 Tracklisting
Synopsis
El Coloso
SINFONIA N. 4
Con la llegada del nuevo siglo, Goya se convertirá en un lúcido cronista que describirá como nadie el esperpento, la violencia y, en definitiva, la terrible realidad que le rodeaba. Se trata del Goya expresionista de las "pinturas negras". Un preámbulo de esta serie de pinturas es el lienzo que lleva el título de El coloso o El pánico, realizado hacia 1810-1812 y conservado en el Museo del Prado.
La 4ª Sinfónia "El Coloso", es una obra impetuosa, violenta, colosal, de una dificultad extrema demostrando un virtuosismo en todos los elementos de la orquesta. Consta de cuatro movimientos sin interrupción titulados:
Se han expuesto múltiples interpretaciones y significaciones del gigante. Hay quienes quieren ver una alusión a Napoleón, otros ven un símbolo de la guerra, el hambre, la crueldad o simplemente el miedo a lo desconocido. En cualquier caso el cuadro nos introduce en el mundo sombrío en que se nueve el Goya de los últimos años. Y por contraste nos revela también delicadezas y sabidurías de ejecución, con ligeros empastes dados con espátula y golpes vigorosos de pincel, de magistral modernidad. El cuadro entró en el Museo del Prado en 1930 con el legado Fernández Durán.Este enigmático lienzo (que plasma todavía, sin duda, las pesadillas de la guerra) anuncia, pues, por su técnica y ambiente, las visiones que en los últimos años de la vida del pintor alcanzarán su punto de máxima expresividad. La verdadera significación e intención temática de este lienzo es aún imprecisa. Algo colosal y terrorífico se yergue frente a la desamparada humanidad y la pone en fuga. Sólo un asno, estampa de la ignorancia y la inconsciencia, permanece quieto e impávido.
I.- Oscuridad.
II.- Duerme.
III.- La Huida.
IV.- El Gigante.
La Sinfonía describe desde el punto de vista del autor, el mensaje que del lienzo le transmite. "La oscuridad", porque el cuadro al óleo adopta el estilo de las Pinturas Negras dominando el color negro. El dibujo/apunte con la leyenda autógrafa de Goya "Gran Coloso Dormido". "La Huída", la zona inferior del cuadro, gentes y bestias huyen en varias direcciones, dando la impresión de caos por tan terrorífica situación. Y "El Gigante" caminando entre las montañas, sobre el humo del atormento, y con los puños en alto, con sus ojos cerrados, lo que representa la idea de violencia ciega.
Obra Encargada por la Sociedad Musical Instructiva Santa Cecilia de Cullera (Valencia – España), para interpretarse como obra de libre elección en el Certamen Internacional "Ciutat de Valencia", año 2011, en la Sección de Honor.
Esta Composición está dedicada "a todos los músicos y directivos de la Sociedad Musical Instructiva, Santa Cecilia de Cullera, y especialmente a su director titular Salvador Sebastiá, por su excelente labor como director"
---
With the turn of the century, Goya becomes a lucid one chronicler described as the grotesque, violence and, ultimately, the horrible reality around him. Goya is the expression of the "black paintings". A preamble of this series of paintings is the painting that bears the title The Colossus or panic, made around 1810-1812 and kept in the Museo del Prado.
This enigmatic painting (which plasma is still undoubtedly the nightmares of war) announces, then, for his technique and environment, the visions in the last years of the painter's life reach the point of maximum expression. The true meaning and intent of this issue is still vague canvas. Something huge and terrifying stands helpless against the humanity and put to flight. Only a donkey, a picture of ignorance and unconsciousness, it remains still and unmoved.
Have been exposed to multiple interpretations and meanings of the giant. Some people want to see an allusion to Napoleon, others see a symbol of war, famine, cruelty or simply the fear of the unknown. In any case, the picture introduces us to the shadowy world in which nine Goya in recent years. And by contrast also reveals subtleties and wisdom of implementation, given fillings with light vigorous strokes of spatula and brush, modern master. The painting entered the Prado in 1930 with the legacy Fernández Durán.
The Symphony No. 4 "The Colossus" is a work impetuous, violent, huge, extremely difficult to demonstrate virtuosity in all elements of the orchestra. It consists of four movements without interruption entitled:
 I.- Darkness.
II .- Sleep.
III .- The Flight.
IV .- The giant.
Symphony described from the viewpoint of the author, the message of the painting conveys. "Darkness," because the oil painting adopts the style of the Black Paintings dominate the color black. The picture / autograph point the legend of Goya "Great Colossus Asleep." "The Escape", the bottom of the box, people and animals fleeing in various directions, giving the impression of chaos so terrifying situation. And "El Gigante" walking in the mountains, the smoke of torment, and with fists, his eyes closed, representing the idea of blind violence.
Video
Grabaciones En Catálogo