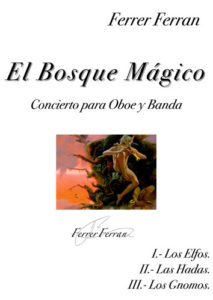 Tracklisting
Synopsis
I.- Los Elfos, con frecuencia descrito como un enano malicioso, tal como el duende irlandés conocido por sus travesuras y que se cree que sabe dónde está escondido el tesoro. En ocasiones se piensa en los elfos como los ayudantes de los magos e incluso los ayudantes del mítico Santa Claus.
II.- Las Hadas son seres míticos del folklore y los romances, que por lo regular se les describe como humanos diminutos con alas y poderes mágicos. Las hadas madrinas son seres protectores, como los  ángeles de la guarda. Este movimiento está inspirado en el film donde un ser mecánico dispone de una inteligencia artificial, siendo éste capaz de lograr un gran sentido emocional, comparando este fenómeno por la magia que las hadas son capaces de ofrecer a los humanos, la ilusión.
III.- Los Gnomos, son unos seres diminutos, miden entre 10 y 50 cm, puede que haya otros un poco mas grandes, pero quizás vivan en zonas mas boscosas o desconocidas. Se les atribuye poderes mágicos, esto es debido a que no están atados a la forma racional de entender el mundo como los seres humanos, conservan tradiciones de millones de años y su objetivo es el ascenso espiritual.
Esta obra se estrenó el día 17 de Febrero de 2002, en el Palau de la Música de Valencia. Siendo interpretada por la Banda Municipal de Valencia, dirigida por su director titular D. Pablo Sánchez Torrella y siendo el solista de Oboe, el concertista D. Jesús Fuster.
---
I.- Elves, often described as a malicious dwarf as the leprechaun known for his antics and is believed to know where the treasure is hidden. Sometimes we think of elves as helpers magicians assistants and even the legendary Santa Claus.
II.- The Fairies are mythical creatures of folklore and romance, which usually describes them as tiny humans with wings and magical powers. The fairies are beings protectors, such as guardian angels. This movement was inspired by the movie where a mechanic has to be an artificial intelligence, being able to achieve this great emotional meaning, comparing this phenomenon by magic fairies are able to provide human, illusion.
III.- The Gnomes are tiny creatures, measuring between 10 and 50 cm, may be other a little bigger, but perhaps more live in wooded areas or unknown. They attributed magical powers, this is because they are not tied to the rational way of understanding the world as humans, retain traditions of millions of years and aims spiritual ascent.
Video
Grabaciones En Catálogo