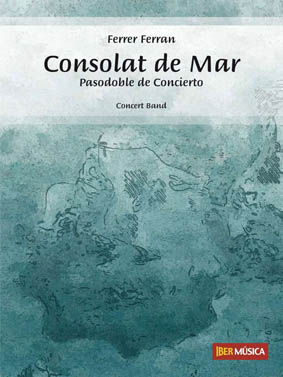 Tracklisting
Synopsis
Consolat de Mar
Pasodoble de Concierto
Agradable pasodoble de concierto. La Introducción y las "Fermatas" nos recrea un carácter puro hispano. La solemnidad de la marcha en contraste con la dulzura melódica del "trío", apasiona un matiz de sencillez.
Un pasodoble atrayente y seductor que nos servirá de preludio para comenzar una agradable y escucha musical.
Consolat de Mar es un comercio de instrumentos musicales que traslada la siguiente ética moral:
… Qui dictava els reglaments

o signava els documents

per a poder trajinar

era CONSOLAT DE MAR

amb un llibre amb manaments.

… Amb l'esmentat i històric

nom de CONSOLAT DE MAR

volem que siga notori

l'intens desig d'aportar

instruments a l'auditori.

I que amb música s'expresse

si hi ha alguna divergencia,

però que no mai es vesse

res que instigue a la insolencia

o trenque la convivència.

I junts gaudirem un dia

la música que més plau,

la mes dolça melodía,

la suprema simfonia,

el cant global de la pau.

Benaguasil, agost de 1997.

Carles.
Encargo de la firma de instrumentos, CONSOLAT DE MAR, conmemorando el X Aniversario.
Esta Composición está dedicada A Consolat de Mar por la gentileza ofrecida a las Bandas de Música Valencianas.
Esta Composición fue estrenada el día 3 de Diciembre de 2006 en el "Palau de la Música" de Valencia, por la Banda de la Asociación Cultural Allegro, dirigiendo el Autor.
---
Pleasant pasodoble of concert. The Introduction and the "Runs" a Hispanic pure character amuses us. The solemnity of the march in contrast with the melodic sweetness of the "trio", impassions a shade of simplicity.
A pasodoble attractive and seductive that will serve us of prelude to begin a pleasant one and musical listens.
Assignment of the firm of instruments, CONSOLAT DEL MAR, commemorating the X Anniversary.
This Composition is dedicated to "Consolat de Mar" by the graciousness offered to the Bands of Valencian Music.
This Composition was premiered the day December 3, 2006 in the "Palau of the Music" of Valencia, by the Band of the Cultural Association Allegro, directing the Author.
Video
Grabaciones En Catálogo