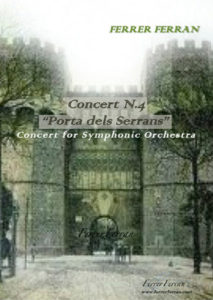 Tracklisting
Synopsis
Manteniendo los parámetros de la forma "concierto", donde todos los elementos de la orquesta son protagonistas, no podía ser menos cuando se refiere a una composición para conmemorar los 70 años de vida que tiene las Orquesta de Valencia.
Todos y cada uno de los instrumentos que comprende la orquesta va a tener un protagonismo especial durante el transcurso de la obra.
El concierto es motívico, quiere decir que el hilo conductor va a ser una frase que se va a desarrollar durante el discurso musical y aunque no lleva un programa descriptivo, sino, pura música, está inspirado en las conocidas, emblema de la ciudad de Valencia, las "Torres de Serrano".
La puerta que abría paso en la antigüedad a la ciudad de Valencia, siendo o utilizando esta como símbolo al igual que cuando lo fue la formación de la Orquesta de Valencia (hace 70 años), la entrada a la ciudad como un emblema musical, donde comenzaba una andadura en el mundo musical valenciano y que hoy es tan querida y requerida en el panorama musical.
La composición fusiona elementos románticos con medievales, sin olvidarnos de un color contemporáneo del momento, creando una fusión de estéticas, que tanto caracterizan a su autor en su obra musical. Una obra atractiva, con mucha emoción que aún siendo los pasajes de un gran virtuosismo hacen de un discurso elaborado e interesante que mantiene una tensión controlada durante la obra hasta alcanzar la resolución final.
Dedicado a todos los profesores músicos  de la Orquesta de Valencia y a su director titular Yaron Traub, por su excelente profesionalidad y buen hacer por la música Valenciana."
Encargo de la Orquesta y Palau de la Música de Valencia, conmemorando el "70 Aniversario" de su fundación (1943 – 2013).
Esta composición se estrenó el día 25 de Octubre de 2013, en el Palau de la Música de Valencia, siendo intérpretes la Orquesta de Valencia dirigiendo su titular Yaron Traub.
---
Keeping the parameters of the form "concert", where all the elements of the orchestra are featured, it could not be otherwise when it refers to a composition commemorating the 70 years of life that has the Orquesta de Valencia.
Each and every one of the instruments comprising the band will have a special role during the course of the work.
The concert is motivic, means that the thread will be a phrase that will be developed during the musical discourse and while not wearing a descriptive program, but pure music is inspired by the well-known emblem of the city of Valencia the "Serranos Towers."
The door opened passage in ancient city of Valencia, being or using this as a symbol like when was the formation of the Valencia Orchestra (70 years ago), the entrance to the city as a musical emblem, where one journey began in the Valencian musical world that is now so loved and needed in the music scene.
The composition merges with medieval romantic elements, not to mention a contemporary color of the moment, creating a fusion of aesthetics, that characterize the author in his musical work. An attractive work, with much emotion that still being a virtuoso passages make a speech prepared and interesting that maintains a controlled during construction until final resolution voltage.
Dedicated to all professors Orchestra musicians Valencia and its conductor Yaron Traub, for their excellent professionalism and good work by the Valencian music.
Commissioned by the orchestra and the Palau de la Música, commemorating the "70th Anniversary" of its foundation (1943-2013).
This composition was premiered on October 25, 2013, at the Palau de la Música, with interpreters conducting the Orchestra of Valencia holder Yaron Traub.
Grabaciones En Catálogo