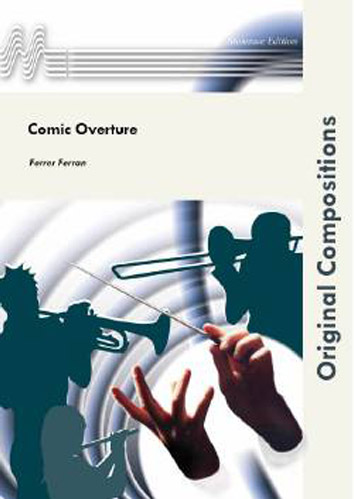 Tracklisting
10

Comic Overture Obertura
Synopsis
Compuesta para hacer reír, divertir y para soñar. Puede ser un buen comienzo del Concierto entrar con ánimo y divirtiendo al público.
Bocinas, Sirenas, Pitos, y un largo etc. De instrumentos de carácter cómico, hacen de "Comic Overture", trasladarnos a las auténticas ferias y fiestas de carnaval, donde la broma y las carcajadas predominan en el entorno. Todo esto, contrastando en la segunda sección con la nostalgia que nos invita a soñar en ese paraíso soñado por todos, la Felicidad.
Obra galardonada con el 3ª Premio en el "XXI Concurso Internacional de Composición para Banda", Corciano, ITALIA, 2000.

---
Composed to make people laugh, have fun and dream. It can be a good start of the concert go to the public mood and having fun.
Speakers, Sirens, Whistles, and etc. Instrument comic character make "Comic Overture", move to the authentic fairs and carnivals where jest and laughter dominate the environment. All this, in the second section contrasts with the nostalgia that invites us to dream that dream paradise for all, Happiness.
Work awarded the 3rd prize in the "XXI International Band Composition Competition" Corciano, Italy, 2000.
Video
Grabaciones En Catálogo