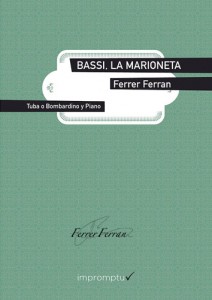 | | |
| --- | --- |
| Year | 1999 |
| Duration | 07:09 min. |
| Level | 2 |
| Editor | Impromptu |
Tracklisting
5

Bassi La Marioneta Tuba o Bombardino y Banda

Download track +info Lyrics

Bassi La Marioneta –Tuba o Bombardino y Banda

Conservatorio Superior 'Salvador Seguí' de Castellón. Director: J.V. Ramón. Tuba: Vicente López.
Synopsis
Bassi la Marioneta
Para Tuba o Bombardino (Euph.)  y Piano
Mención de Honor en el Concurso de Composición MUSIC & POST, celebrado en Maribor Slovenia en 1999.
Bassi es una marioneta que está condenada a ser manipulada por su dueño el titiritero. Aún así siempre, durante sus actuaciones, encuentra el momento para poder sentirse ella misma.
Es al final de una actuación (Allegretto) cuando viene la oscuridad de la noche y el reposo de todas las marionetas que se encuentran dentro de sus cajas (Adagio). Bassi aprovechando el silencio y como resucitando, cobra vida y sale de su aposento…. Se asegura de que su dueño ya no va a volver y su rostro se llena de ilusión y alegría.
Hace el llamamiento a todas sus compañeras, -«salir, salir… estamos solas,… ya podemos bailar y divertirnos»-. Todas salen de sus cajas y brincan de alegría en ese momento que sienten la libertad deseada.
Todas ellas comienzan a bailar juntas. Es un vals la que les hace adueñarse de su independencia, resolviendo todo este baile en un jolgorio (Allegro vivo), como si de bufones se tratara, lleno de alegría y de ilusión.
Esta obra está dedicada al Tubista y amigo, Jorge Tonda, por su gran afición y empeño hacia la música.
---
Honourable Mention in the MUSIC & POST Composer Competition, Maribor Slovenia – 1999.
Bassi is a puppet doomed to be manipulated by her master, the puppeteer. Nevertheless, it always finds a moment to feel free during performances.
After a performance (Allegretto), when the darkness of night comes and with all the puppets inside their boxes (Adagio), Bassi comes to life in the silent surroundings. It comes out of her chamber makes sure her master is not coming back and a happy, excited countenance lights up her face.
Calls on all her workmakes, -«come out, come out, we're alone we can now dance and enjoy ourselves»-. They all come out of their boxes and leap with joy in that moment as they feel a long-desired freedom.
They all begin to dance together. It is a waltz rhythm that makes them seize their own independence, all this dance resolving into a revelry (Allegro vivo), as if they all were clowns, full of joy and excitement.
Video
Grabaciones En Catálogo