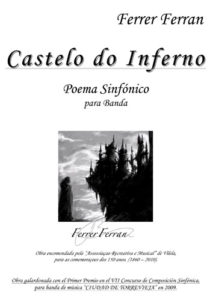 | | |
| --- | --- |
| Year | 2009 |
| Duration | 16:19 min. |
| Level | 5 |
| Editor | Impromptu |
Tracklisting
Synopsis
«Castelo do Inferno» es una composición de mucho efecto y virtuosismo, con muchos contrastes y de mucho brío. Es un Poema Sinfónico que describe el municipio de Paredes situado en Portugal.
Consta de tres movimientos descriptivos sin interrupción denominados de la siguiente manera:
I-    Mosteiro de Vilela.
II-    Boca do Inferno.
III-    Vestigios do Castelo.
«Mosteiro de Vilela», situado en la ciudad del mismo nombre y después de la reconquista de los moros, el 1º Rei de Portugal deja tierras e iglesias, naciendo así, los monasterios de varias órdenes religiosas. Los monjes rezaban, trabajaban las tierras, acogían a peregrinos, copiaban libros y enseñaban. Los monasterios desempeñaban un papel muy importante en esos momentos.
Un espacio natural causado por el río que va excavando las rocas duras de las montañas, forma un paisaje a modo de boca de fuego, causando terror el precipicio que allí se forma y llamado «Boca do Inferno». La leyenda cuenta un milagro causado en este lugar, la leyenda «da Señora do Salto»: «Un día de niebla, un caballero montado a caballo perseguía una liebre, (que personificaba al diablo), y cayó al precipicio. En peligro, el caballero invocó a Nuestra Señora y por milagro, se salvó él y su caballo». Allí construyó una capilla y en el suelo, bajo del precipicio quedaron y todavía permanecen las cincos marcas, que al margen del río están de las patas del caballo y su hocico.
«Vestigios do Castelo», el «Castelo de Aguilar de Sousa» fue muy importante para la defensa de Portugal cuando a finales del siglo X, fue atacado por un rey moro llamado Almançor. Los caballeros luchaban con espadas, la reconquista duró siglos, pero los cristianos acabaron de recuperar todo el territorio, ayudados también por caballeros de otros reinos cristianos.
Obra encomendada pela «Assossiaçao Recreativa e Musical» de Vilela, para as comemoraçoes dos 150 anos. (1860 – 2010).
Obra dedicada a «Assossiaçao Recreativa e Musical» de Vilela (Portugal) e ao seu director titular, José Ricardo Freitas, com afecto e carinho pelo seu interesse pela boa evoluçao das bandas de música.
Obra galardonada con el Primer Premio en el VII Concurso de Composición Sinfónica, para banda de música «CIUDAD DE TORREVIEJA» en 2009.
---
«Castelo do Inferno» is a composition of great effect and virtuosity, with many contrasts and a lot of verve. Is a tone poem describing the municipality of Paredes located in Portugal.
It consists of three movements called descriptive without interruption as follows:
I.- Mosteiro de Vilela.
II.- Boca do Inferno.
III.- Vestigios do Castelo.
«Mosteiro de Vilele» (Vilela Monastery), located in the city of the same name and after the conquest of the Moors, Rei de Portugal 1 left lands and churches, and from this, the monasteries of various religious orders. The monks prayed, worked the land, welcomed the pilgrims, copied books and taught. The monasteries played an important role at that time.
A natural space caused by the river that is excavating the hard rocks of the mountains form a landscape as a muzzle, causing terror to the cliff and there is called «Boca do Inferno». Legend has caused a miracle in this place, the words «da Senhora do Salto»: «A foggy day, a knight on horseback chasing a rabbit (the devil personified), and fell into the precipice. In danger, the gentleman invoked Our Lady and miraculously saved him and his horse. » He built a chapel and the ground under the cliff were and still remain the five brands, which are outside the river of the horse's legs and muzzle.
«Vestiges do Castelo», the «Castelo de Aguilar de Sousa» was very important for the defense of Portugal when the late tenth century, was attacked by a Moorish king named Almançor. The knights fought with swords, the reconquest lasted for centuries, but the Christians eventually recover all the territory, aided also by men in other realms Christians.
Video
Grabaciones En Catálogo