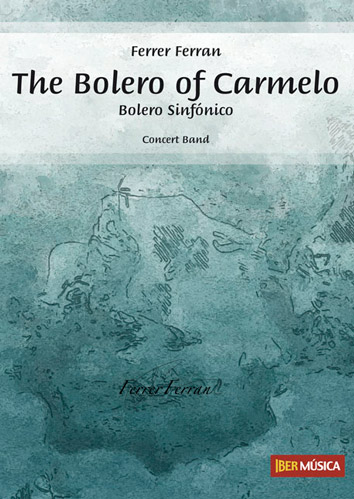 Tracklisting
Synopsis
Una Pieza de carácter desenfadada, alegre y muy fresca. "El Bolero de Carmelo" quiere similar y apreciar la constancia del buen hacer, marcado por ese "ritmo ostinato" tan divino que muestra el bolero, siendo este, presentado por el "tambor" a semejanza del apreciado y maravilloso "Bolero" de Ravel.
Bolero sencillo y embriagador, iniciada por el ritmo y desarrollando orquestalmente una misma melodía seductora que repite y dibuja, hace atrayente y pegadiza esa frescura musical que tanto encanta al espíritu.
Carmelo Dovara, Amante di tutta la música, ma in particolare cultore della música bandistica, suonatore di flicorno barítono e instancabile lavoratore e organizzatore affinchè la música attraverso il suo linguaggio unniversale sia sempre più messaggioi di cultura, espressione d'amore e unione tra i popoli e, in particolare, per i giovani che avvicinano e praticano questa nobile arte.
Con sincera amicizia, esta Composición está dedicada a CARMELO DOVARA, Amante di tutta la música, ma in particolare cultore della música bandistica
Fue estrenada en el "1º Master Direzione e Composizione", celebrado en Catania, (Sicilia) en el concierto de fin de curso el día 5 de Septiembre de 2009. Dirigiendo el autor.
---
A part of an uninhibited, cheerful and very cool. "El Bolero de Carmelo" I like and appreciate the record of good performance, marked by the "rhythm ostinato" so divine that shows the bolero, this being presented by the "drum" like the esteemed and wonderful "Bolero" by Ravel.
Simple and intoxicating Bolero, initiated by the pace and develop a single orchestral melody that repeats and draws seductive, attractive and catchy that makes musical freshness that both delights the spirit.
Carmelo Dovara, lover of all music, but especially music lovers band, baritone, flugelhorn player and tireless worker and arrange for the music through its language is increasingly Unniversal messaggioi culture, expression of love and union among the peoples and, in particular for young people who approach and practice this noble art.
With sincere friendship.
Video
Grabaciones En Catálogo