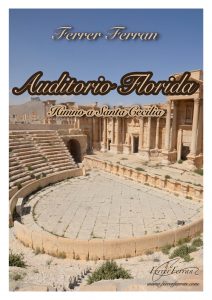 | | |
| --- | --- |
| Year | 2006 |
| Duration | 04:52 min. |
| Level | 2 |
| Editor | Musicaes |
Synopsis
«Auditorio Florida (Himno a Santa Cecilia)» es una pieza solemne y pomposa, con mucha sensibilidad y finura, que le permite una belleza pura que con mucha ternura por momentos, contrasta con efusiva grandiosidad y majestuosidad.
Un Himno, una Composición poética en loor de los Dioses o de los Héroes, o en alabanza de Dios de la Virgen o de los Santos, sirve para exaltar o celebrar una victoria u otro suceso memorable o expresar júbilo o entusiasmo. Una Composición musical emblemática de una colectividad que la identifica y que une entre sí a quienes la interpretan.
La Musa de la Música «Santa Cecilia», la patrona de los músicos vivió en el s. III.  Se relaciona con la música porque desde muy joven tocaba el arpa y el órgano. También se dice que cuando fue arrestada no dejaba de entonar cánticos al Señor. En 1584 fue elegida patrona de la Academia de Música de Roma, y desde esa fecha, las diversas corales, orquestas, bandas y cantantes la festejan en su fiesta.
Esta Composición está dedicada …a todos los Músicos de la Banda Primitiva de Paiporta, por las tantas veces que me han hecho FELIZ.
Obra encargada por la Banda Primitiva de Paiporta, para ser el Himno de esta Sociedad Musical.
Esta Composición fue estrenada el día 25 de Noviembre de 2006 en el «Auditorio Florida» de Paiporta (Valencia), en el Concierto de Santa Cecilia  por la Banda Primitiva de Paiporta, dirigiendo el Autor..
---
«Auditorio Florida (Himno a Santa Cecilia)» is a solemn and pompous piece, with great sensitivity and finesse, which allows a pure beauty with great tenderness at times contrasted with effusive grandeur and majesty.
A hymn, a poetic composition in praise of Gods or Heroes, or in praise of God from the Virgin or the Saints, serves to exalt or celebrate a victory or other memorable event or express joy or excitement. An iconic musical composition of a community that identifies and binds together to interpret.
La Muse of Music «Santa Cecilia», the patron saint of musicians lived in the s. III. It relates to music because very young played the harp and organ. It is also said that when he was arrested he kept singing songs to the Lord. In 1584 he was elected patron of the Academy of Music in Rome, and since then, various corals, orchestras, bands and singers at his party's celebrate.
This composition is dedicated … all musicians Banda Primitiva Paiporta for the many times I have been very happy.
Work commissioned by the Primitive Band Paiporta to be the anthem of the Musical Society.
This composition was premiered on November 25, 2006 in the «Florida Audience» Paiporta (Valencia) in the Santa Cecilia concert by the band Primitive Paiporta, directing the Author.
Grabaciones En Catálogo