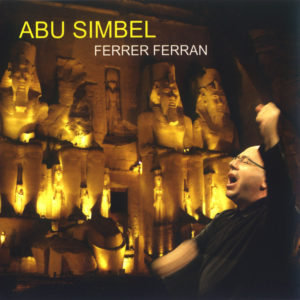 Tracklisting
Synopsis
Abu Simbel
Episodio Sinfónico
La grandeza de Abu Simbel que significa "la montaña pura". Es un complejo de dos templos excavados en la roca ordenados construir por Ramses II. El templo mayor de Abu Simbel es uno de los mejores conservados de todo Egipto.
El templo está dedicado al culto del propio Ramsés y de las grandes deidades de Egipto, Amón, Ra, y Ptah. Estos tres dioses tenían sus capitales y a lo largo de la Historia del antiguo Egipto fueron muy venerados. Al lado de los tres se representa a Ramsés como el cuarto gran dios de Egipto.
Las melodías cautivadoras bañadas por el Nilo, de un encanto exótico, conciertan en esta composición con unos contrastes de sonoridades grandiosas y seductoras.
Un episodio épico, interesante, sinfónico, que describe a los faraones que al considerarse dioses disponían del poder absoluto en la dinastía faraónica donde las construcciones eran inmensas y encantadoras.
Esta Composición está dedicada:
…A Markus Morgenegg, por su gran interés en la Música de Banda.
"Commissioned by the Bernese Cantonal Music Association for the 22st Bernese Cantonal Music Festival, June 2009, Büren a/A"
---
The two rock-carved sandstone temples of Abu Simbel on the west bank of the Nile, were built during the reign of Pharaoh Ramses II.
The Great Temple is dedicated to the deities Amun-Ra, Re-Harakhte, and Ptah, as well as to the deified Ramses himself. It is one of the best preserved temples in Egypt. The innermost chamber of the temple – the sacred sanctuary – contains four seated statues depicting Ramses as equal to the three major and most revered gods of Ancient Egypt.
Indeed, the Pharaoh was the highest ruling power in the social hierarchy. He had divine right over the people and was considered a god. Many pharaohs achieved lasting fame in the construction of architectural marvels.
Ferrer Ferran's music is a land of colourful sound contrasts, a powerful and emotional experience. The enchanting and exotic melodic lines soar high over the waters of the Nile.
Abu Simbel was commissioned by the Bernese Cantonal Music Association for the 22nd Bernese Cantonal Music Festival, June 2009, Büren on the Aare, Switzerland.
Video
Grabaciones En Catálogo