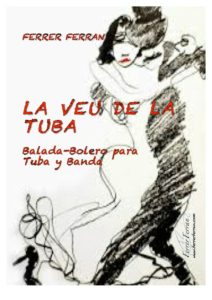 | | |
| --- | --- |
| Year | 2009 |
| Duration | 10:20 min. |
| Level | 3 (solo 4) |
| Editor | Musicaes |
Tracklisting
Synopsis
La Veu de la Tuba
 Balada – Bolero para Tuba y Banda
"La Veu de la Tuba" es una adaptación de una pieza melodiosa para Trompeta y Banda, titulada "La Veu de la Trompeta". Por una petición del concertista y pedagogo de la trompeta, Luis Andrés Faus al autor. Ferrer Ferran compone y dedica a su padre (trompetista) esta pieza que en forma de Balada y Bolero nos transfigura a los años 60.
Una melodía presentada por la tuba, melancólica y apasionante, conforma la Balada, ésta, rica en armonía y color. El Bolero, conmovedora forma, de atractiva línea melódica y ritmo seductor, nos transforma al asombroso paraíso que te va trasladando al fascinante encanto del ensueño.
Esta Composición está dedicada A mi padre que junto a mi Madre, tanto hizo y tanto se sacrificó, para que yo llegara a ser "Músico". Con agradecimiento de su hijo que siempre lo quiso.
Esta Composición fue estrenada el día 28 de Febrero de 2010 en el Auditorio de "Allegro Centro Musical" de Valencia, siendo el solista a la tuba, el concertista Eduardo Nogueroles y acompañado al piano por el autor.
---
"La Veu de la Tuba" is an adaptation of a melodic piece for Trumpet and Band, entitled "La Veu de la Trompeta". On a request from the concertmaster and teacher of the trumpet, Luis Andres Faus the author. Ferran Ferrer composed and dedicated to his father (trumpet) is shaped piece Bolero Balada and transforms us in the '60s.
A melody by the tuba, melancholy and passionate, forms the Ballad, it is rich in harmony and color. The Bolero, moving form of attractive seductive melodic line and rhythm, we transformed the amazing paradise that you will transferring to the fascinating charm of the dream.
Video
Obra en Grabaciones