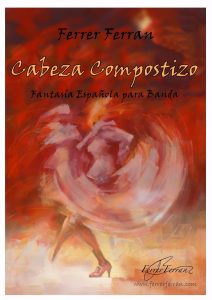 | | |
| --- | --- |
| Year | 2012 |
| Duration | 7:57 min. |
| Level | 4 |
| Editor | Musicaes |
Tracklisting
Synopsis
Cabeza Compostizo
Fantasía Española
Cabeza Compostizo" es una fantasía de carácter español. Una música viva, jubilosa, despierta y alegre va a caracterizar el ambiente ibérico en cuatro secciones.
Su comienzo en "cadenza", la lamentación, el cante jondo, le sigue el fandango, ritmo ternario por excelencia, el baile de la gitana con sus castañuelas. La parte central es el bolero, bonita melodía, predominando siempre su ritmo "ostinato" y finalizando con la repetición y entusiasmo del fandango.
Una partitura bella y fluida que desprende un sentimiento rico, un homenaje a la vida, inspirado por una persona especial donde el entusiasmo da la alegría, el regocijo, la experiencia de la satisfacción. Rica en color y armonía, alegre de sonar y suculenta de interpretar.
Esta Composición está dedicada
…a José Cabeza Compostizo, gran persona y bondadosa, en un día muy especial para que siempre sea recordado junto con los suyos. De sus amigos Marisa, Fernando y Pablo.
Su estreno fue el día 30 de Abril de 2012 en el Palau de la Música de Valencia por la Banda de la Asociación Cultural Allegro, dirigiendo el autor.
---
"Cabeza Compostizo" is a fantasy of Spanish character. Live music, joyful, awake and happy environment will characterize Iberian into four sections.
 His start in the "cadenza" lamentation, flamenco singing, followed by the fandango, ternary rhythm par excellence, the gypsy dance with castanets. The central part is the bolero, beautiful melody, its rhythm always prevail "ostinato" and ending with the repetition and enthusiasm of the fandango.
A beautiful score and fluid that gives off a feeling rich, a tribute to life, inspired by a particular person where enthusiasm gives the joy, the joy, the experience of satisfaction. Rich in color and harmony, sounding cheerful and hearty to interpret.
Video
Grabaciones En Catálogo