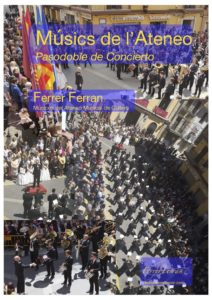 Synopsis
Músics de l'Ateneo
Pasodoble de Concierto

El director titular de la Banda Ateneo Musical de Cullera, Ferrer Ferran, propone componer un pasodoble solicitando la participación de los músicos de la banda en los momentos difíciles ocasionados por la pandemia mundial del COVID en el año 2020. Un pasodoble para simbolizar que uniendo fuerzas se alcanzan los mejores objetivos.
Cada músico ha aportado cuatro compases, sin normas, ni estéticas marcadas, totalmente libre y a voluntad de cada uno de ellos. Ferrer Ferran ha unido todos los incisos musicales, los ha armonizado y orquestado, y el resultado es este hermoso pasodoble titulado "MUSICS DE L'ATENEO" que todos ellos dedican a las personas que aman la música y en especial al pueblo de Cullera.
Esta composición se estrenó en el mes de noviembre de 2020, en el Auditorio Municipal de Cullera (Valencia, España) por la banda sinfónica "Ateneo Musical" de Cullera, dirigiendo su titular, Ferrer Ferran, el autor.
---
MUSICS DE L'ATENEO
Concert Pasodoble
The chief conductor of Banda Ateneo Musical de Cullera, Ferrer Ferran, proposed to write a pasodoble in collaboration with the band's musicians during the hard moments caused by the global COVID pandemic in 2020. A pasodoble to symbolize that, by joining forces, the best goals are achieved.
Each musician contributed with four bars, totally free about rules or any stylistic guidance. Ferrer Ferran gathered them, harmonized and orchestrated, and the result is this beautiful pasodoble entitled "MUSICS DE L'ATENEO", that they dedicate to people who love music and especially to the town of Cullera.
This composition was premiered in November 2020, at Auditorio Municipal de Cullera (Spain) by Ateneo Musical de Cullera, conducted by the composer, Ferrer Ferran.
Video
Grabaciones En Catálogo