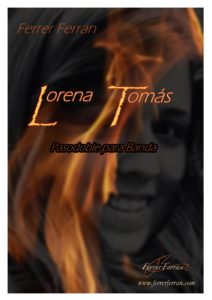 Tracklisting
 Synopsis
Lorena Tomás
Pasodoble 
Lorena Tomás, enamorada de la vida, en Febrero se le presenta como Fallera Mayor de la falla "El Mercat" de Alzira, y para dicha presentación, sus tíos Dolores y Ramón han querido regalarle este pasodoble para que recuerde siempre, a su querida prima María.
"Lorena Tomás" es un pasodoble alegre y jovial, seductor y colorista, describiendo la belleza y juventud de ambas dos "musas", María y Lorena.
De la firma de su nombre "Lorena Tomás"
(L – la / O -do / RE – re / N – si / A – la / TO – do / M – mi / A – fa / S – sol)
surge el inciso motivador para la composición de esta simpática pieza.
Encargo de Mª. Dolorés Tomás y Ramón Ramírez para regalárselo a Lorena Tomás.
A Lorena Tomás dels teus tios Dolors i Ramon en record de María.
Esta composición se estrenó el día 13 de Febrero de 2016, en la Sala "Rex" de Alzira, Valencia (España) por la Banda del Conservatorio Superior de Música "Joaquín Rodrigo" de Valencia, dirigiendo Ramón Ramírez.
---
In February Lorena Tomás, loving life is presented as "Fallera Mayor" of the "Falla El Mercat" of Alzira and for this event, her aunt Dolores and uncle Ramón wanted to give hert this pasodoble to remember always her beloved cousin María.
"Lorena Tomás" is a cheerful and jovial, seductive and colorful pasodoble, describing the beauty and youth of both "muses," Maria and Lorena.
The signature of her name "Lorena Tomás" (L – A / O – C / RE – D / N – B / A – A / TO – C / M – E / A – F / S – G) is the origin of the motivating reason for the composition of this nice piece.
Commissioned by Mª. Dolores Tomás and Ramón Ramírez as a gift for Lorena Tomás.
To Lorena Tomás from her aunt Dolores and uncle Ramón in memory of María
This composition was premiered on February 13, 2016 in the concert hall "Rex", Alzira, Valencia (Spain) by the Band of the Conservatory of Music "Joaquín Rodrigo" of Valencia, directing Ramón Ramírez.
 Videos
Grabaciones En Catálogo