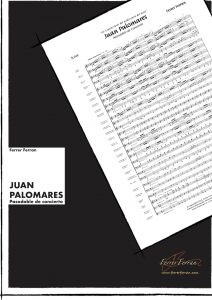 | | |
| --- | --- |
| Year | 2018 |
| Duration | 5:34 min. |
| Level | 4 |
| Editor | Musicaes |
Synopsis
Juan Palomares
Pasodoble de Concierto

El corazón traducido en persona, en ganas de vivir la vida y con felicidad, para mostrarlo a todo aquel que le rodea. Bondad, elegancia, distinción, tesón y seguridad es Juan Palomares.
Juan Palomares es amante de la familia, de la música, de su banda; el "Ateneo Musical" de Cullera, de la organización y del buen hacer. Por esto, y con estas características nace una música en forma de pasodoble para representar tantas cualidades que él posee.
Un pasodoble de concierto, elegante, majestuoso, risueño y distinguido llevará su firma al mundo musical.
PA – la / LO – do / M – mi / A – la / R – re / E – mi / S – sol
Encargo de sus hijos, conmemorando su "80 Aniversario".
"Els 'Cuatre Vints' del millor pare del mon"
Esta composición se estrenó el día 29 de Junio de 2018, en el Auditorio Municipal de Cullera, Valencia (España) por la Banda Sinfónica "Ateneo Musical" de Cullera, dirigiendo el autor.
---
Juan Palomares is the heart personified with a desire to live life with joy, radiating that joy to everyone around him. Juan Palomares is goodness, elegance, distinction, persistence and security.
Juan Palomares loves family and is passionate about music, especially his band — the Ateneo Musical of Cullera, and the good they do. For this reason, music with his characteristics was born in the form of the pasodoble, representing so many of the qualities he possesses.
"Juan Palomares" is a concert pasodoble — elegant, majestic, smiling and distinguished that will lift his name to the musical world.
PA – la / LO – do / M – mi / A – la / R – re / E – mi / S – sol
Commissioned by his children to commemorate his 80th Birthday.
"The Four-Times-Twenty (80 years) of being the best father in the world"
This composition was premiered on the 29th of Juny 2018, in the Municipal Auditorium in Cullera, Valencia (Spain)
by the Symphony Band "Ateneo Musical" of Cullera, conducted by the composer, Ferrer Ferran.
Video
Grabaciones En Catálogo