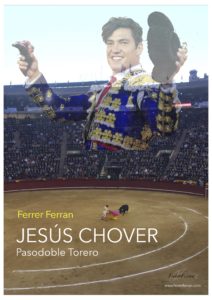 Synopsis
Jesús Chover
Pasodoble Torero

El Toreo es un arte sublime, arrebatador, parte de la cultura de los pueblos, nacido en España en el s. XII.
Jesús Chover es un torero valenciano que toma la alternativa de la mano de El Juli en el mes de Marzo en la plaza de toros de Valencia el año 2019.
La tauromaquia, el arte de lidiar los toros, incluye todo el desarrollo previo al espectáculo como tal, desde la cría del toro, la confección de la vestimenta, el diseño y publicación de los carteles y como no podía ser menos, la música, que siempre está presente en las corridas de toros.
El pasodoble Torero "Jesús Chover" es un pasodoble brillante, mostrando una bravura en todo su esplendor, de carácter taurino, alegre y animoso representando la personalidad del buen toreo.
Dedicado al torero valenciano Jesús Chover, por hacer de su habilidad un arte, conmoviendo a los miles de aficionados al toreo, cuando Jesús está lidiando el toro.
Esta composición se estrenó el día 15 de Junio de 2019, en el Auditorio de la Casa de la Cultura de Favara (Valencia), por la Banda Sinfónica Asociación "Amics de la Música" de Favara, dirigida por el autor, Ferrer Ferran.
---
Bullfighting is a sublime and breathtaking art which emerged in the 12th-century Spain and is still part of the culture.
Jesús Chover is a Valencian bullfighter who became a professional bullfighter provided by the Spanish renowned bullfighter "El Juli". This ceremony was held in the Valencia's bullring in March 2019.
Bullfighting is the art of dealing with bulls: from the breeding of cattle, the "suit of light's" manufacture, the design of the posters; and not to mention the music that is always present in bullfights.
"Jesús Chover" encompasses the nature and bravery of the "pasodoble torero" in all its splendor. In addition, it represents the cheerful personality that the good bullfighting has.
The pasodoble is dedicated to the Valencian bullfighter Jesús Chover, for being able to transform his ability into art when fighting a bull, and as a result, to thrill all the fans of bullfighting.
This composition premiered on 15th June, 2019, and held in the auditorium "Casa de la Cultura" of Favara (Valencia), by the Symphonic Wind Band "Asociación Amics de la Música" of Favara, and conducted by the composer, Ferrer Ferran
Video
Partitura / Score
Grabaciones En Catálogo