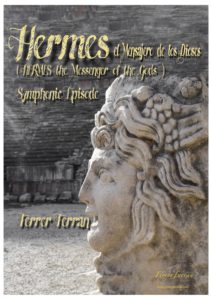 Synopsis
Hermes el Mensajero de los Dioses
Symphonic Episode for Symphonic Wind Orchestra

En la población de Xilxes allá por el s. II a.c. y hasta el s. VII d.c. se produce la conquista romana y más tarde visigoda. El primer asentamiento romano estuvo situado en la zona de "l'Alter" donde se han encontrado distintos restos arqueológicos como vajillas y herramientas, pero sin duda lo más importante es la estatua del Dios Hermes realizada en bronce. Este primer asentamiento data del s. I d.c. y era el lugar de paso de todos los comerciantes que recorrían la via Augusta.
El autor, inspirado en dicha estatua, ha querido describir en música a "Hermes", que en la mitología griega es el Dios olímpico mensajero de los viajeros que cruzan las fronteras, del ingenio y del comercio en general, de la astucia, de los ladrones y los mentirosos. Una composición triunfal, majestuosa, irónica y bella a su vez.
Esta composición se estrenó el día 26 de julio de 2020, en el Teatro Municipal de Xilxes (Castellón, España) por la banda Sinfónica "Unió Musical Santa Cecilia de Xilxes", dirigiendo el autor Ferrer Ferran.
Encargo de la sociedad musical "Unió Musical Santa Cecilia de Xilxes" (Castellón) para conmemorar 40 años de sociedad y más de 100 haciendo música.
Obra dedicada a todos los músicos, directivos y simpatizantes de la "Unió Musical Santa Cecilia de Xilxes" una gran "familia" que ama la música, y a su director titular Omar Sala por hacer posible que todos ellos crean en la belleza del mensaje musical.
---
In the village of Xilxes, from the II century B.C. to the VII century A.D., the Roman, and later Visigothic, conquests took place. In the area of l'Alter, different archaeological remains have been found, such as crockery and tools from the first Roman settlement. However, the most important object is the bronze statue of the God Hermes. This settlement dates back to the first century A.D. and was a stopping point for most of the merchants who travelled on the Via Augusta.
The author, inspired by this ancient statue, wanted to describe with triumphal and beautiful music "Hermes", the Olympic God in Greek mythology, messenger of traders and of travellers who cross borders, of the cunning, and of thieves and liars.
This composition premiered on the 26th of July, 2020, at the Teatro Municipal in Xilxes, Catellón (Spain) by the Symphony Wind Orchestra "Unió Musical Santa Cecilia" of Xilxes, conducted by the composer, Ferrer Ferran.
"HEMES, THE MESSENGER OF THE GODS" was commissioned by the "Unió Musical Santa Cecilia" of Xilxes (Castellón) to commemorate 40 years of organisation and more than 100 years of playing music.
This composition is dedicated to the large family of musicians, members of the union and supporters of the "Unió Musical Santa Cecilia" of Xilxes, who love music, as well as its chief conductor, Omar Sala, for making it possible for all of them to believe in the beauty of the musical message.
Video
Grabaciones En Catálogo